Heading to the Austin City Limits Music Festival this year?
Us, too!
We love events that make our city unique and special, and there's no better event that showcases the best of Austin's vibrant culture than the Austin City Limits Music Festival.
Here's a bit about this decades-long tradition and, of course, how it all came to be!
What is the Austin City Limits Music Festival?
If you've spent any time at all in Austin or have kept up with the music industry in any way, then the Austin City Limits Music Festival is certainly something you've heard about.
At its most basic, the Austin City Limits Music Festival is an annual festival held, of course, in Austin. It's a six-day festival spread over two weekends in October, with nine stages set up throughout Zilker Park and over 450,000 people attending each year! 
Performers from nearly every genre come to Austin for this festival — after all, Austin is the live music capital of the world and performing here at the Austin City Limits Music Festival is a major career milestone.
There's food, drinks, entertainment, artists and local vendors and more that makes this festival so much bigger than a couple of concerts in the park. 
History of the 'Austin City Limits' TV show
The Austin City Limits Music Festival has its roots in a television series of the same name that originally aired way back in 1976 — and is still running today! In fact, the Austin City Limits television program is the longest running TV music program in history, with an incredible list of top performers having graced their studio stages over the years. 
It all started back in 1974 when PBS issued a call to their regional stations asking for local programming unique to their area. At the time, Bill Arhos was the director of Austin PBS, along with producer Paul Bosner and director Bruce Scafe, all of whom got together and discussed possible program options that would not only offer unique content, but would also support and strengthen Austin's own unique culture and character. 
With a diverse background of music program direction courtesy of Scafe, Arhos' interest in progressive country music and Bosner's interest in the counterculture music of the cosmic cowboy scene, the three decided to create a weekly television program that focused on Austin's own country, blues and folk music. Bosner suggested the show be called Austin City Limits, since he saw that very sign every week as he drove into the city and it highlighted the region's burgeoning music scene.
Before the program could be greenlighted, however, Austin PBS had to deliver a test pilot episode to PBS for approval. Easy enough — a quick studio was set up and a musician brought in to perform a casual-yet-entertaining set of live music. The episode was pitched to PBS in 1975 as part of a successful fundraiser and pledge drive, and the main studio was so impressed that the Austin City Limits television program was officially in the works. 
Oh, and the guy that they brought in to perform on a whim? That was Willie Nelson. Before he got famous. We've linked that video below, just for you!
Since then, the television show has expanded to include performers from every genre, not just folk, country and blues. Their hall of fame includes major names like Ray Charles, Buddy Guy, Flaco Jiménez, B.B. King, Kris Kristofferson and Stevie Ray Vaughan, just to name a few!
How did the ACL Music Festival begin?
This brings us to the music festival, which began in 2002 and was inspired by the ACL television show. Austin PBS doesn't run the festival, though — it's run by another Austin-based company called C3 Presents which, if you're in the festival scene, you'll know also puts on Chicago's Lollapalooza music festival. 
Either way, the music festival is directly inspired by the TV show's mission of bringing great live music to the public and highlighting Austin's music scene. It was precisely because of the TV show's great reputation that the first music festival went so well, with a whopping 25,000 attendees and 67 musicians over 5 stages in just two days. 
The festival has had a strong attendance ever since, and it even went to a two-weekend event in 2013 after city council members voted to expand the festival. 
The festival is more than just the music, though that's certainly the main draw. The event also includes Austin Eats, a food court that features a wide variety of food stands, food trucks and local vendors peddling a wide variety of foods. There's also the ACL Art Market, which showcases a diverse range of local artists and unique pieces that you can't find anywhere else. 
And honestly, good food, great music and awesome art — what more could anyone want?
All in all, the Austin City Limits Music Festival is 100% Austin through-and-through. It's centered around live music, the community and giving back, and it brings people back to vibrant Austin year after year for the best of the best that live music can offer.
So, if you live in or near our Austin apartments and haven't made it out to the Austin City Limits Music Festival yet, what are you waiting for? It's a rite of passage for every Austin resident and is sure to bring you closer to the communities and cultures that call Austin home.
Happy festival-going!
Pin it!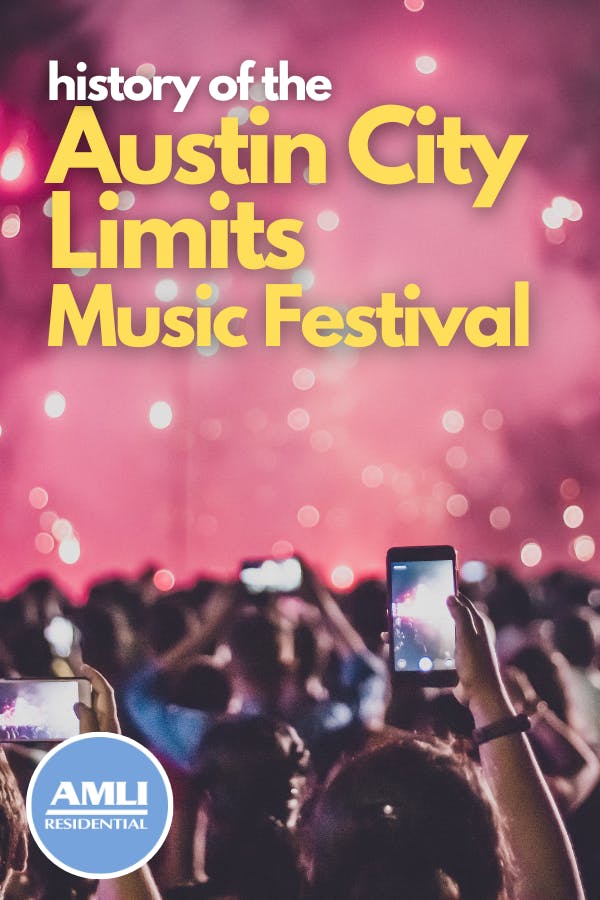 Featured photo courtesy Pixabay/Pexels