Summers in Atlanta, and Georgia writ-large, are known for being hot and humid. Most summer days linger in the 90s and have overnight lows into the 70s — which feels quite warm when you're sleeping outside. Northern parts of Georgia can be slightly less humid, but the summer thunderstorms create a muggy feeling and bring lots of rain. 
If you've spent any amount of time in humid environments then you know hot temperatures feel even hotter when it's humid. Even though this weather can be less than desired at times, it is still possible to get outside and have a safe and enjoyable summer hike.
Here are a few tips to maximize your enjoyment and safety while hiking in and around Atlanta.
5 Tips to Prepare for the Best Summer Hiking in Atlanta
Hydrate, hydrate, hydrate
When it's hot and humid you are likely to become dehydrated and fatigue quicker than normal. The heat zaps the energy out of you while the humidity prevents your sweat from evaporating, which is the body's built-in cooling system. 
Water alone might not be enough to keep you hydrated. As you sweat you lose not only water but also electrolytes such as sodium, magnesium, and potassium. It can be very helpful and important to replace these electrolytes with sports drinks, electrolyte mixes, or sodium tablets. Heat and humidity can affect the body's ability to regulate temperature and can become dangerous if left unmanaged. Replacing lost electrolytes and staying hydrated will help your body manage the discomfort of the heat and humidity. 
In addition to staying hydrated, it is also important to fuel your hike with snacks and food along the way.
Not only does your body need fuel to give you energy for the hike, but it can also help you avoid hyponatremia — this happens when your body is holding on to too much water and the sodium in your blood is too low. Electrolyte drinks can help but might not be enough. Salty snacks such as trail mix, nut mixes, or chips all help manage your sodium levels while also giving you energy to hike. Hiking in the heat can change or alter your appetite, so it can be helpful to have a variety of snacks to choose from. 
Choose the best clothing 
Ever heard the phrase "cotton kills?" The phrase is mostly referring to cotton's inability to dry efficiently which can lead to hypothermia risk in the cold environments. While that isn't a likely problem in the summers of Georgia, cotton is still less than ideal.  Did you know cotton can absorb up to 27 times its weight in water? When cotton is wet it is heavy, uncomfortable, can cause chafing, and takes forever to dry. You will be much more comfortable choosing wicking materials that can help manage moisture from sweat and the humid environment.
Some of the best moisture wicking materials to wear when out on trail include merino wool (natural fiber), nylon (synthetic fiber) and polyester (synthetic fiber). Clothing technology has evolved significantly over the last few decades providing high quality synthetic fiber garments that do a fantastic job of wicking moisture while also being quite comfortable. 
Also, don't forget about the socks! It can be easy to throw on your regular cotton socks but wet feet will lead to blisters and painful feet. Darn Tough socks are by far some of the hiking community's favorite wool socks and they even come with a lifetime warranty. If you are worried about chafing there are a variety of anti-chafing products on the markets such as glide sticks to help reduce any discomfort. You can also wear thin, wool or synthetic sock liners beneath your main hiking to reduce wear and tear on your feet should the wool hiking socks not do this on their own.
Save yourself from the sun
Sun protection is almost as important as hydration. Overexposure to the sun can lead to burns, increase your fatigue and lead to dehydration or other heat-related illnesses. You can protect yourself from the sun with sunscreen, sunglasses, hats and by covering up your skin as much as possible. Loose-fitting garments do a better job of circulating air to help you stay cool and dry out. 
A personal favorite for this author is a sun hoodie, which is typically a super-lightweight long sleeve shirt with a hood to block out as much sun as possible. They often measure around 50 SPF which also saves you the effort of having to apply sunscreen throughout the day.
Pick the right time of day
It is best to avoid the hottest part of the day both for your enjoyment and comfort as well as for safety and health.
Typically, the stretch from noon to 4 p.m. is the hottest part of the day with 4-7 p.m. coming in as a close second. Try and start your hike as early in the day as possible — if you have to be out during the hottest part of the day, try and find a body of water to cool off in or some shade to take a break in. Early morning hikes are a great way to get outside when it's cool and to start your day off with a little exercise before heading into work or doing chores. 
If you have never done a night hike before, give it a try! Trails are typically far less busy and you don't have to worry about the sun. The stillness of night can be a peaceful and enjoyable experience. 
Know the signs of heat illness
Besides dehydration and hyponatremia that we have already discussed, other common heat illnesses include heat cramps, heat exhaustion and heat stroke.  
Heat cramps occur alongside heavy sweating during exercise with muscle pain or spasms. If you experience heat cramps, stop your activity and find a place to cool down in the shade or try to move indoors. Be sure to drink plenty of water or a sports drink and seek medical attention if the cramps last more than one hour. 
Heat exhaustion has an extensive list of signs and symptoms. You do not need to be experiencing all the signs and symptoms for it to be taken seriously.
Keep an eye out for:
Heavy sweating
Cold, pale and clammy skin
Fast, weak pulse
Nausea or vomiting 
Muscle cramps
Tiredness or weakness
Dizziness
Headache
Fainting (passing out)
If you experience heat exhaustion, move to a cool place and loosen your clothes. Sip water and place wet cloths on your body or take a cool bath. Seek medical treatment if you are throwing up and/or your symptoms get worse or last longer than one hour. 
Heat stroke is a very serious medical emergency. Medical attention is necessary as soon as possible and can be cared for by cooling the person down with cool cloths and moving to a cooler environment. A person experiencing heat stroke should not be given water or other liquids to drink. Heat stroke can look like:
A body temperate of at 103 degrees Fahrenheit or higher
Hot, red, dry or damp skin
Fast, strong pulse
Headache or dizziness
Nausea
Confusion
Losing consciousness
Get out there! 
Summer hiking in Georgia can be a truly enjoyable and rewarding experience. Being able to explore your local park or take a trip outside the city to somewhere new is sure to bring you adventure and rejuvenation. You can enjoyably improve your physical health by building stronger muscles and bones, improving your sense of balance, improving heart health and decreasing the risk of certain respiratory problems. Being in nature is known to boost your mental health, reduce stress and calm anxiety. 
If you lie anywhere near our luxury Atlanta apartments, then grab a friend and go explore Atlanta's beautiful parks and trails while maximizing your summer enjoyment. 
Happy hiking!
Pin it!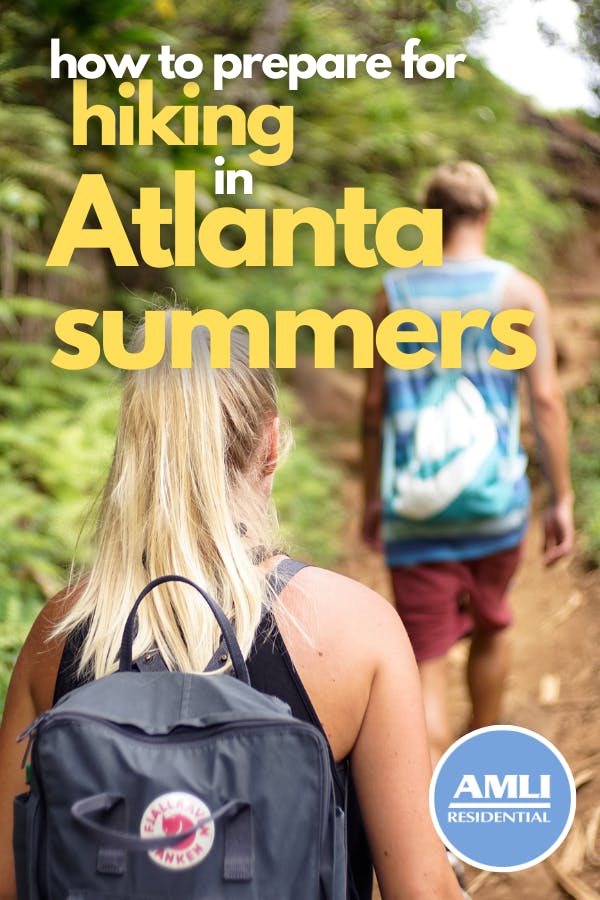 Featured photo courtesy Pixabay/hausi_flo