It's spring time! And if there's one thing that Seattleites do astoundingly well, it's getting outdoors to catch those gorgeous Washington wildflowers at their prime. 
We all gain so much from spending time outdoors, whether it's exercise, fresh air, a moment of peace or a much-needed break. From tree-lined trails to snow-capped mountain peaks to rocky ocean coasts and everything in between, Washington has so much to give us, so it's important to respect the outdoors and the delicate processes that occur within it. 
If you live in our luxury Seattle apartments, then check out these ways that you can hike sustainably on Seattle's great hiking trails!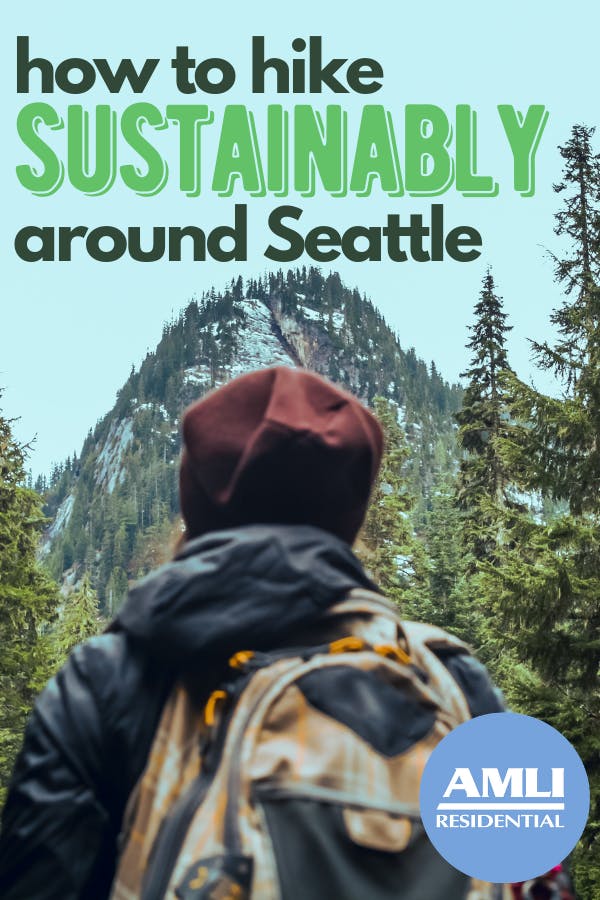 How to hike sustainably around Seattle
Don't pick the wildflowers
As tempting as it may be, it's important to leave the wildflowers exactly where they are. Not only will others be able to enjoy them, but it will allow the natural process of pollination to occur when it needs to. Plus, some endangered wildflowers are protected by law, and picking them can lead to fines!
After all, wildflowers aren't wildflowers if they aren't in the wild. 
Avoid the traffic
You probably already know how popular trailheads can get packed even early in the day. Sometimes, the only way to get a parking spot on a weekend is to arrive before sunrise, and anyone hoping for a quiet hike in the peace of nature is sure to see more people than expected.
Not only does frequent overuse damage the trails and ecosystems directly along the hike, but it can cause damage to the mountain roads leading there and the animal life that lives in the area. Roads leading to Lake Cushman in the Olympic National Park were closed in August 2020 due to frequent overcrowding and concerns that the narrow roads couldn't handle the heavy traffic. In addition, the National Park Service was struggling to keep up with the excessive trash and, ahem, human waste. 
Although the pandemic has sent many of us scurrying for the open air and space of the outdoors, it's taken a toll on wildlife and the environment here in Washington. The solution? Try out that new hike that you've been wanting to try for ages, or head to a less-popular trail for some real peace and quiet.  
Stay on the trail
Staying on the trail is one of the most basic forms of hiking etiquette.  Not only does it prevent people from getting lost, but it protects the plants and wildlife around the trial, too. If everyone just walked wherever they wanted, then the natural scenery we so love and appreciate would be terribly damaged.
Hike at the right time of year
Spring is a delicate time for much of the outdoors. Seeing the first green buds on the trees and the first blooms of flowers on the hillsides is a priceless experience, but there's so much more happening behind the scenes that all relies on a delicate balance of nature to succeed. If there's a time of year that's absolutely crucial for natural growth, or a season that's important to nurturing young animals, then it's wise to leave nature to do its work undisturbed. 
Pack in, pack out
Leave no trace principles are built on the belief that leaving as little of an impact on the environment is vital to nature's health which, in turn, keeps us healthy too. Whatever you bring on your hike should come back out with you, be that food, trash, gear and waste. Leave nothing but your footprints (on the trails, of course!) and take only photographs. 
When hiking trails inevitably get busier and busier in the summertime, you may notice that the trash cans at trailheads or state parks start to overflow. If that happens, then trash can blow away in the wind or get ingested by birds and animals. So lend the Washington State Parks staff a hand and take your trash back home with you instead!
Don't use soap in water
Did you know that soap can destroy a lake, pond or river's ecosystem? For such a clean item, it can do so much damage.
Water's surface tension is what keeps oxygen inside for the fish and provides a surface for water skimmers to prowl for food. Soap breaks this vital surface tension, which can lead to algae growth and dying fish. 
If you are looking to wash your hands, make sure that you use just a little bit of natural soap at least 200 yards from a water source.
Choose sustainable hiking gear
A good set of gear can last a thousand hikes if you take care of it well, so why not invest in gear that promotes sustainable fashion, responsible production and healthy environmental practices. 
Ethical clothing isn't limited to buying from certain brands. It could also mean buying secondhand gear, or even just fixing up your old gear first! There's plenty you can do to make your hiking gear more sustainable and your carbon footprint smaller, and it's easier than you might think!
Travel green
By taking a bus, riding a bike or carpooling with friends to a trailhead, you've already offset a lot of the carbon that you might've used by driving alone. Finding a lift-sharing network with people you trust can be a great way to not only make great friends, but also hike more sustainably. 
As we head into warmer weather and more frequent hiking excursions, let's all be conscious of how our enjoyment of the outdoors affects the outdoors. From what we wear to where we walk and how we get there, there are so many ways we can give back to the outdoor world that's given so much to us. 
Pin it!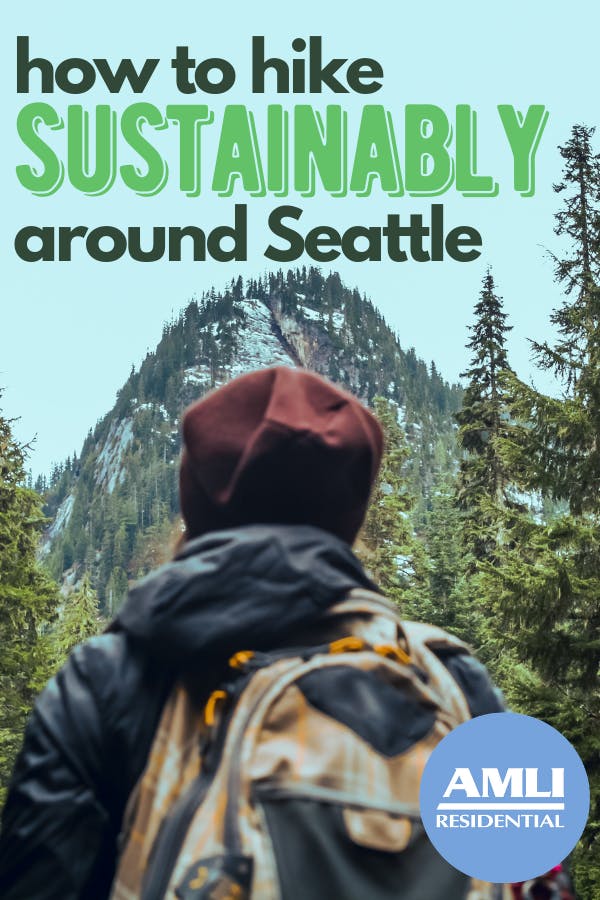 Featured photo courtesy Pixabay/Free-Photos