If you've spent any time at all around the DFW area, then you've probably laid eyes on at least half a dozen or so different lakes. From massive bodies of water like Lewisville Lake to smaller bodies of water like Lake Carolyn, Dallas and the surrounding area is home to an abundance of watery recreation and scenery.
Texas is, unlike many may think, quite a damp state. Aside from the desert western portion of the state, of course. There are over 7 thousand lakes in Texas, most of which can be found in the central and eastern parts of the state, and many of those are around Dallas.
Of these seven thousand lakes, it may surprise you to know that just a small percentage of them are naturally-occurring. Even local Grapevine Lake exists as a result of some strategic civil engineering. 
Before we dive into what lakes are and aren't natural, there are a few terms that will help us define what exactly some of these bodies of water are referred to as.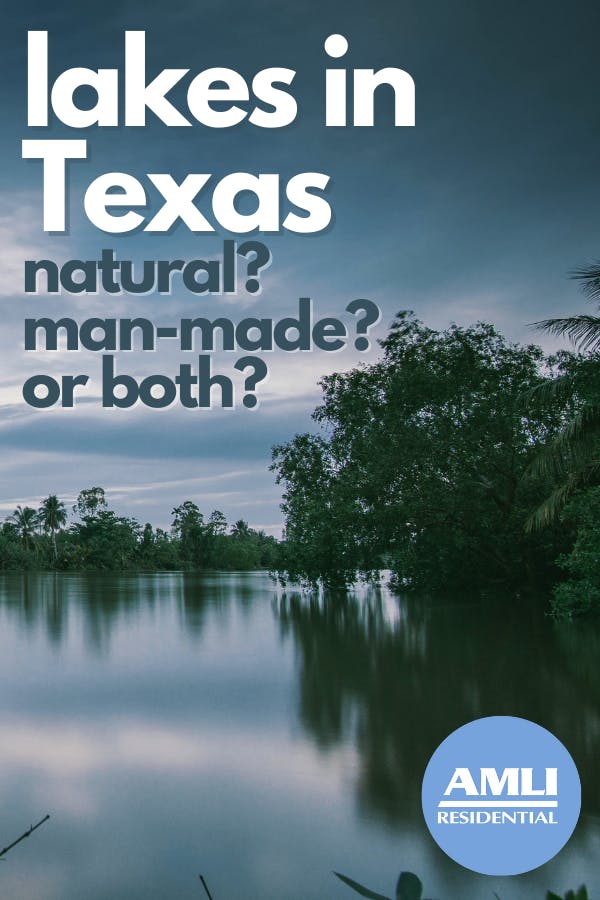 Reservoirs
These bodies of water are made by damming up a river. This can occur naturally when, for example, a narrow portion of the river gets clogged up with debris over time. Most often, however, reservoirs are distinguished by one or more man-made structures on the downstream end of the river. 
These structures, both man-made and natural, stop the water from flowing along its natural course, and instead the water pools up behind the wall and floods the surrounding area. One easy way to tell if a body of water is a reservoir is by looking at the edges of the water. Because reservoirs flood the surrounding area, the shape of the water often conforms to the contours of the land around it. This results in a "lake" with uneven edges and many tendrils spreading out along the edge.
Lakes
These are natural bodies of water that are not formed as a result of blockage along a river. Lakes form in natural depressions and are deepest in the center, where the natural bowl-shape of the earth is at its lowest. These lakes are formed in different ways depending on where and when they were formed, such as through ancient glacial, tectonic or volcanic activity.
Playas
Playas are also considered to be natural lakes, although they have a few distinct characteristics that separate them from being categorized as full lakes.
Playas are formed by irrigation or rainfall runoff that pool in the lowest points of the surrounding land. These wetland areas fill with water during rainy seasons and empty during the dry season. Because these "lakes" are filled solely through seasonal rainfall and irrigation, playas are very shallow and generally quite circular, depending on the topography. 
There are around 19,300 playas in Texas, mostly in the high plains regions. 
Resacas
Another type of natural lake is the resaca, which is formed from the movement and activities of rivers. Most often, resacas are formed in the horseshoe bends in rivers; when the river changes course, the pool of water remains as its own little lake. 
Lakes in Texas
If you look at a map of Dallas, you might notice that the many lakes around the Dallas-Fort Worth area feature uneven edges and tendrils of water. This is because those lakes are all reservoirs, and there are a lot of reservoirs in Texas. Over two hundred of them, in fact. 
These reservoirs aren't just for decoration or for prime-time fishing spots — there's a real reason to have all this extra water lying around. The biggest reason, as you might have guessed, is that Texas weather is, at best, a little unpredictable. Massive downpours of rain and long periods of drought prompted Texas residents to construct dams to regulate the flow of water all throughout the year, and these dams created the reservoirs we see today. 
So, yes, most of Texas' "lakes" are, in fact, reservoirs, but there are still a few natural lakes in the state.
Caddo Lake, on the border of Texas and Louisiana, is both a natural reservoir and man made lake. Hundreds of years ago, Caddo Lake was formed due to the Red River being plugged up by debris. When the federal government cleared the plug, known as the Red River Raft, in the late 19th-century, a man-made dam was constructed to preserve the lake that people had already spent centuries living alongside. 
Another natural lake in Texas is Sabine Lake on the Gulf of Mexico. It is where the Sabine and Neches rivers meet, finally ending their journeys and drain into the gulf. A similar natural lake is Green Lake just north of Corpus Christi. 
So, what does that mean for Dallas' many lakes? Well, it means that every lake around you has a history. 
Take Grapevine Lake, for example, which is just a few minutes north of our Grapevine apartments for rent. Flooding along the Trinity River in 1908 and 1936 prompted the US Army Corps of Engineers to develop flood control projects all over northern Texas. Many of the projects began after the end of World War II as an increased focus was placed on civil works and infrastructure. 
Grapevine Lake, Lavon Lake, Benbrook Lake, Ray Roberts Lake and Lewisville Lake were all constructed by damming certain tributaries of the Trinity River, including Denton Creek, Buck Creek and Mustang Creek. The River & Harbors Act of 1945 allowed these construction projects in order to control the waterways of the increasingly-populated metropolises of the Dallas-Fort Worth Area. 
Now, the complex system of waterways and levees are carefully controlled and monitored to make sure the unpredictable Texas weather has as little of an effect on people's lives and homes as possible. 
Next time you're gallivanting on Grapevine Lake or splashing around in Lewisville Lake, think about the man-made marvel that you get to enjoy, and how these massive lakes were all built to keep Dallas residents safe.
Enjoy!
Pin it!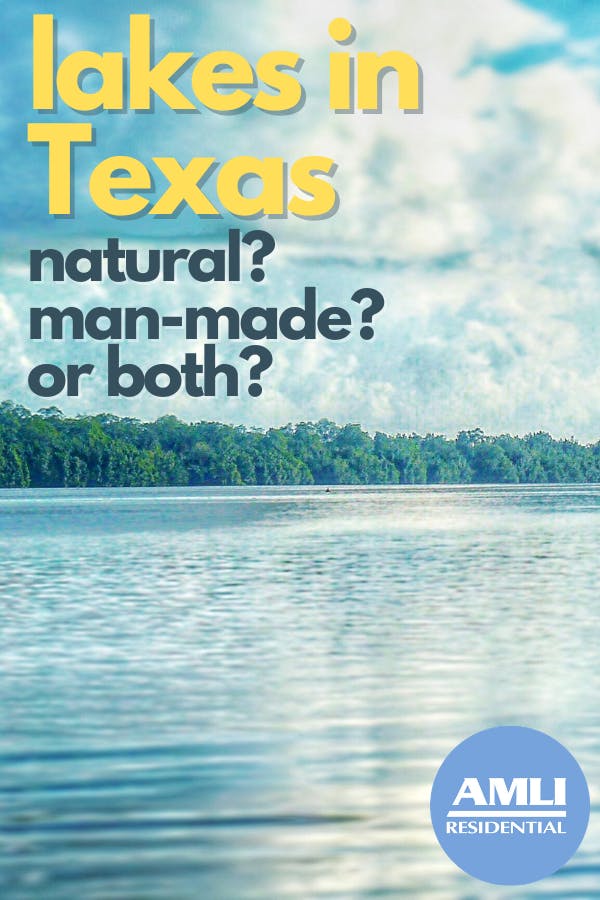 Featured photo Pixabay/Pok_Rie