Houston is one of the fastest-growing cities in the United States. 
It's true! In fact, Texas eclipsed California in terms of new residents in 2020, and Houston was one of the most popular destinations for all these new Texans. 
It's not just people from the Sunshine coast migrating to Houston, however. There are people from all over the world who are arriving in the United States and calling Houston their new home. The booming technological, aviation and energy industries based in Houston have resulted in many partnerships with nations and corporations across the globe, and there are over a dozen thriving sister city relationships between the coastal city and international centers. 
All this is to say that Houston is a city with an incredibly diverse population. There are people of all ages, origins, beliefs and backgrounds, and what better way to explore this diversity than through a glimpse into Houston's religious world?
It would take us eons to explore the intricacies behind the many belief systems in Houston, but we certainly can go over some of the physical representations of these diverse beliefs. Worship centers, whether they be temples, synagogues, churches, mosques or convents, are more than just beautiful buildings tucked away between skyscrapers and business centers; they are the precious centers of tight-knit communities that bring the many people of Houston together in a common setting. 
If you live in our luxury Houston apartments, here are just some of the many religious centers around Houston that you may see as you drive around the city!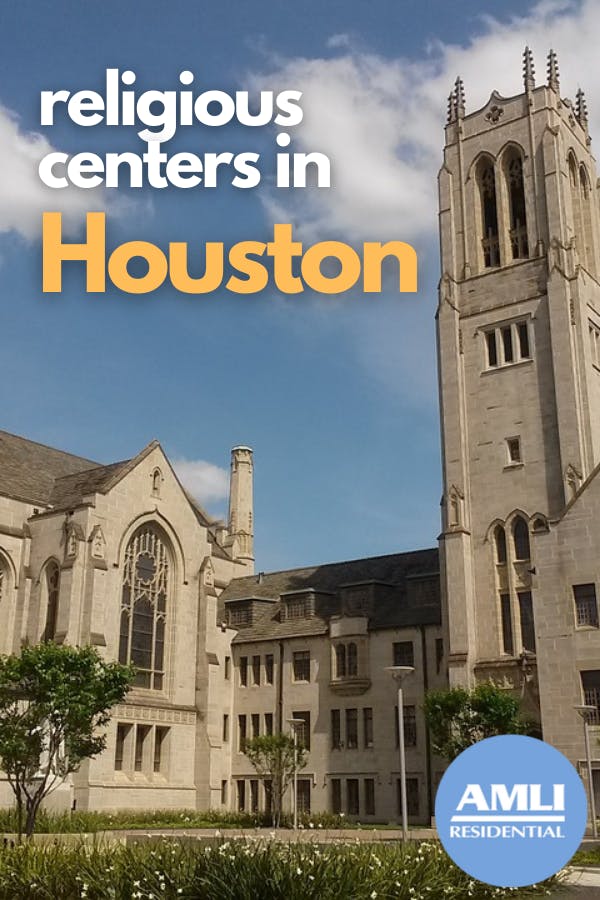 Religious centers in Houston
BAPS Shri Swaminarayan Mandir
Hindu temple
The Indian-American community has been steadily climbing in Texas and in Houston for decades now, and there are nearly a dozen Hindu temples scattered around the city. The BAPS Shri Swaminarayan Mandir is one of the most visually impressive Hindu temples in Houston, and one-hundred percent worth the detour to see it.
This particular temple is truly a sight to behold. The 11,500-square-foot temple is delicately constructed from Italian marble and Turkish limestone that were designed and crafted in India. The temple grounds cover 22 acres and feature gardens, reflecting pools and spacious lawns. The temple itself, called the mandir, is the largest of its kind in Texas, and the first of its kind in North America!
Beth Israel
Reform Jewish synagogue
Built in 1854 as an Orthodox Jewish establishment, Beth Israel in Midtown Houston is the oldest Jewish congregation in Texas. Thirty years after the synagogue opened, the congregation voted to adjust their status to Reform Judaism and moved into a new building in Downtown Houston. The congregation was in their Midtown Houston location from 1925-1967 before moving to their current Southwest Houston location. 
The old Midtown location is a pristine example of the Moderne style of architecture and is listed as a Recorded Texas Historical Landmark. 
Christ Church Cathedral
Episcopal cathedral
The Christ Church Cathedral in the heart of Downtown Houston is one of the oldest religious institutions in the area. The church first started in 1839, back when Texas was its own republic, meaning that not only does this church have the oldest congregation in the city, but is one of the oldest non-Roman Catholic churches in the state of Texas! The building that the church occupies today was built in 1893 and is still in use today.
The church also operates as the main cathedral for the Episcopal Diocese of Texas.
St. Basil the Great Greek Orthodox Church
Greek Orthodox church
As part of a growing orthodox population, St. Basil's is the center of a thriving Greek community on the west side of Houston. In addition to providing services in a masterfully decorated sanctuary, the church's sprawling campus of beautiful stone, smooth courtyard and architectural marvels is the home of a school and plenty of community programs. Houston Greek Fest, which has been held there annually for two decades, is a fun-filled festival celebrating Greek culture that's been growing more and more popular each year.
Chong Hua Sheng Mu Holy Palace
Taoist Palace
Tucked away in the middle of a very normal West Houston suburb is a massive white palace adorned with shimmering golden orbs. Although this fascinating building was never completed, the story behind this Palace of Golden Orbs is a tale of a tight-knit community with high ambitions.
Rothko Chapel
Non-denominational chapel
Who said spiritualism has to have a denomination? 
The Rothko Chapel near Montrose is both a quiet place to reflect and a piece of modern art and architecture. 
Built in 1971, the chapel was designed as a meditative space to house the architect's paintings. Mark Rothko designed the building in an octagonal shape set in a Greek Cross, and 14 of his monotone black paintings hang on the interior walls. The overall effect is one of quiet stillness. It's a place of spiritualism open to everyone but belonging to no one.
Whether you attend a place of worship or simply admire them from afar, these religious institutions are more than just a place of gathering to the residents of Houston. They are community centers. They are places to pray. They are halls of gathering and places of healing. They are centers of community and language and culture, and they represent just a fraction of the diversity Houston has to offer.
Pin it!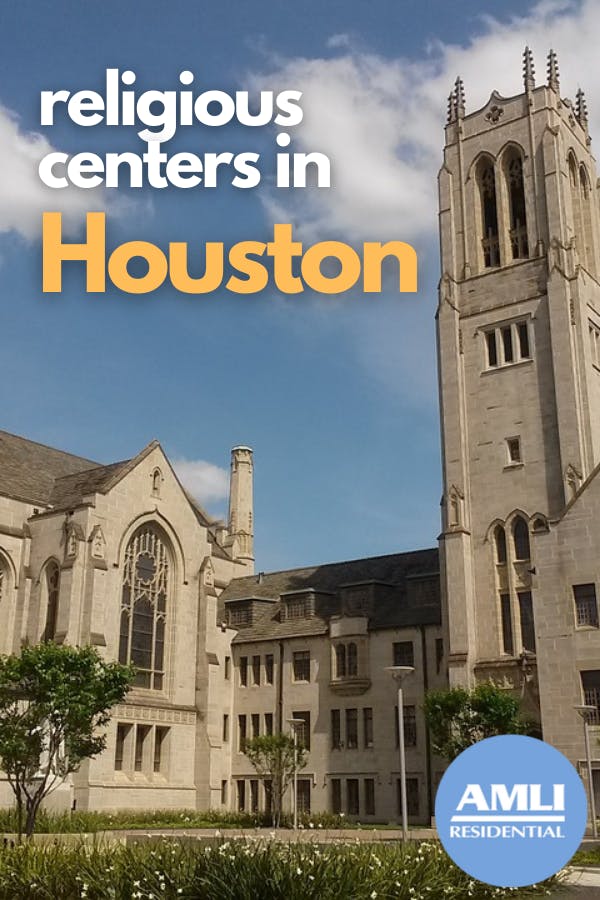 Featured photo courtesy Pixabay/Alyssa1