Denver is known for food, beer, art and so much more, and all of it has been shaped by the history of the people, the ancient land and the many cultures that have lived here in its long, storied history.
Whiskey is one of those unique pieces of Colorado that has popped up relatively recently in the state's history. Back then it was only 19th-century miners brewing their own spirits in tin cups high in the mountains, but today Denver is a bright spot on the micro distillery world map thanks to local businesses like these ones below. 
We already looked at a few of the popular distilleries around Denver, but here are a few more you can add to your list!
Great whiskey distilleries in Denver
Location: 1420 South Acoma St.
Types of whiskey: Rye, Malt bonded, Bourbon
Distillery tours: yes
If you're interested in high-quality, small batch whiskey, then Law's Whiskey House should be right up there on your must-visit-in-Denver list. 
Law's is known for sourcing their heirloom grains grown right here in Colorado State, where the thin air, cool nights and hot days help create superior-quality produce that creates superior-quality whiskey. They were also the first distillery in the state to create bonded whiskeys, meaning the whiskey is a product of just one distillery, made in just one season, aged for at least 4 years and bottled at no less than 50% A.B.V. 
All that to say that Law's is a place where you can find some truly special and exceptionally unique bottles of whiskey. Take a tour and you can see for yourself!
Location: 5285 Joliet St., Denver
Types of whiskey: American whiskey, Rye, Bourbon
Distillery tours: yes
The Leopold Bros distillery has plenty to keep you entertained and interested for hours on end. 
Located just south of the Rocky Mountain Arsenal in northeast Denver, this distillery is more than just a gorgeous tasting room. The entire distillery is designed to be zero-waste, with systems to recycle water and compost waste built into the nearly decade-old structure. There's an education center for those looking to learn a little more about the distillery process, as well as cocktail workshops, a great tasting room and tours around the impressive space. Leopold Bros is also home to the first distillery malting floor in the state, making this Denver establishment a true city icon.
Location: 6770 South Dawson Circle, Suite 400, Centennial, CO
Types of whiskey: Limited specialty editions, Rye, Malt
Distillery tours: yes
If there's anything Colorado residents do love, it's their skiing, and this popular distiller just down the slope from Denver (as in, south) certainly knows how to capitalize on a market.
Their signature whiskey brand — the Double Diamond — has racked up a long list of awards since its initial release, including titles from the Denver International Spirits Competition, the San Francisco World Spirits Competition, the American Distilling Institute and the Beverage Tasting Institute. 
If that's not enough to hook you, then give their other popular spirits a try, too, like their popular gin, rum, vodka and wine creations. You just can't go wrong!
Location:  4196 Ute Highway, Lyons, CO
Types of whiskey: Honey Whiskey, Straight Malt, Cask 
Distillery tours: no
Using fresh mountain water and grains grown in the arid San Luis Valley, Spirit Hound Distillers is known for creating some top-notch, small-batch spirits that truly shine. Though primarily featuring whiskeys made in collaboration with local farmers and small businesses, keep an eye out for this distillery's vodkas, gins, rums and other spirits (such as moonshine and crème de cacao) when you stop by their tasting room!
Location: 10488 W. Centennial Road Suite 900, Littleton, CO
Types of whiskey: Bourbon, Rye, Irish whiskey
Distillery tours: no
This Littleton staple is everything one could want from a Denver small business. 
Each batch of whiskey, vodka and gin created here at 52eighty Distilling utilizes locally-grown produce, fresh mountain water, high-quality ingredients and careful artistry to create the perfect batch of spirits. When you visit their tasting room or try any of their long list of award-winning beverages, you'll see for yourself why this particular distillery is so highly regarded. 
So, there you have it! If you live anywhere in or near our luxury Denver apartments, then give these distilleries a try next time you're looking for a local business to support. The chances are pretty high that you'll find something you absolutely love. 
Enjoy!
Pin it!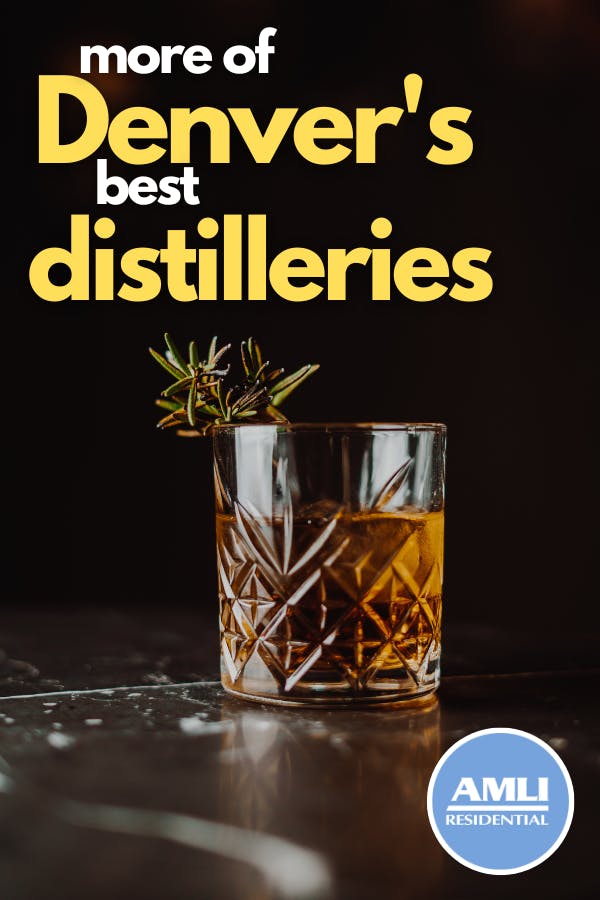 Featured photo courtesy Pixabay/felix_w