Do you like spooky spots and haunted houses? Well, if you live in our luxury Atlanta apartments, then you've got a great opportunity to explore one of the spookiest historic places around. 
Oakland Cemetery
If you're looking for a good ol' fashioned haunted spot, then Oakland Cemetery is one of the best places to go. It checks all the boxes of your classic haunted spot: it's old, it's got a history of strife and, of course, it's got urban legends. It's just two miles from our Old Fourth Ward Apartments, too, so you can be back home and watch a happy movie on Netflix within ten minutes of being spooked out!
Haunted checklist: it's old
Oakland Cemetery is the oldest public park in Atlanta and one of the largest cemetery green spaces in the country. It was originally founded as Atlanta Graveyard in 1850, but it was renamed to Oakland Cemetery in 1872 after all of the oak and magnolia trees that grew on the property. 
The six-acre cemetery grew along with the city and now covers about 48 acres of land just southeast of downtown Atlanta in Oakland. The original six acres are considered one of the oldest plots of historical land in Atlanta, and because of that, the cemetery is a great visual representation of the city's history.
Over 70,000 people are buried at Oakland Cemetery, and there are still a few family plots that have not yet been filled.
Haunted checklist: it's got history
The Oakland Cemetery shows evidence of the many periods of society and events in the history of Atlanta.
The Confederate Section of the cemetery is occupied by about 6,900 graves, all but 16 of which are Confederate casualties during the Civil War. There are only 16 Union soldiers buried in the section, most likely because there was no space for them anywhere else at the time. Marking the section is a large granite obelisk, called the Confederate Obelisk, which was carved from stone from Stone Mountain. Also among the graves in this section are nearly 3,000 graves of unknown soldiers.
Oakland Cemetery's Potter's Field is the section where those who could not afford plots of land were buried in the early days of the cemetery before the turn of the 20th century. Because the cemetery grew so quickly and plots of land were filled at such a fast rate, most people opted to be buried at Potter's Field because it was cheaper. No markers exist at Potter's Field, but archaeologists estimate that there are about 7,500 people buried in the field.
During the era of segregation, a separate section of the cemetery was used for African Americans. This section is a testament to the strife and separation that the city has worked to overcome since then. 
The Bell Tower at Oakland Cemetery used to be a farmhouse from which General John B. Hood commanded his Confederate army during the Battle of Atlanta in July of 1864. The farmhouse became a Bell Tower in 1899 and was used as the sexton's office and home, the bell being used to call workers or to mark funerals. Now, the Bell Tower is where the Historic Oakland Foundation has its offices.
Historic checklist: it's got urban legends
In a cemetery with so many war casualties, it's no surprise that many of the legends that have sprung up around Oakland Cemetery have been about soldiers. Some have said that they've seen a Union soldier hanging from a tree, heard names called out in roll-call and even seen prominent Atlanta businessman Jasper Newton Smith rising from his statue to roam the cemetery at night.
Visit the Oakland Cemetery
If you're looking to truly capture the spirit of Atlanta's historic cemetery, then one of the best ways to experience and learn about it is through their Capturing the Spirit of Oakland tours around Halloween. These tours serve to tell the stories of some of Oakland's most famous residents and to educate visitors on the cemetery's gardens and architecture. 
If you want to visit Oakland Cemetery during the rest of the year, then you can still find out about Oakland Cemetery's history by visiting their website and exploring the visitor's center and museum shop. The cemetery is free and open to the public, but there are also opportunities to purchase tickets to educational events held by the Historic Oakland Foundation. 
Picnics are allowed at the cemetery, as long as there are no grills or fires, so feel free to spend the day there admiring the gardens and walking through history!
Places to eat around Oakland Cemetery
If you're driving down from our luxury Lindbergh apartments or from our high-rise apartments in Midtown, then you'll want to spend a little extra time down in the Cabbagetown and Oakland areas before heading back up to Midtown or Lindbergh. Luckily, there's plenty to do around Oakland Cemetery! Here are a few of our favorites.
Firepit Pizza Tavern has some great oven-cooked pizza and tasty appetizers just steps away from Oakland Cemetery!
Not only does Six Feet Under Pub & Fish House have an incredibly clever name for its location, it also serves some great pub food and drinks just across the street from Oakland Cemetery. 
Daddy D'z BBQ Joynt is one of those places you'll remember for life. This mouth-watering soul food and comfort food restaurant is just blocks from Downtown Atlanta and from Oakland Cemetery.
Augustine's is a great little bar that's just a block away from the cemetery. After all, you can't have a cemetery without a few spirits! Right? Get it?
Whether you visit Oakland Cemetery for the spooks or not, we hope you get to enjoy this cemetery for what it is: a look into Atlanta's history so that we can, maybe, understand how to create a better future.
Enjoy!
Pin it!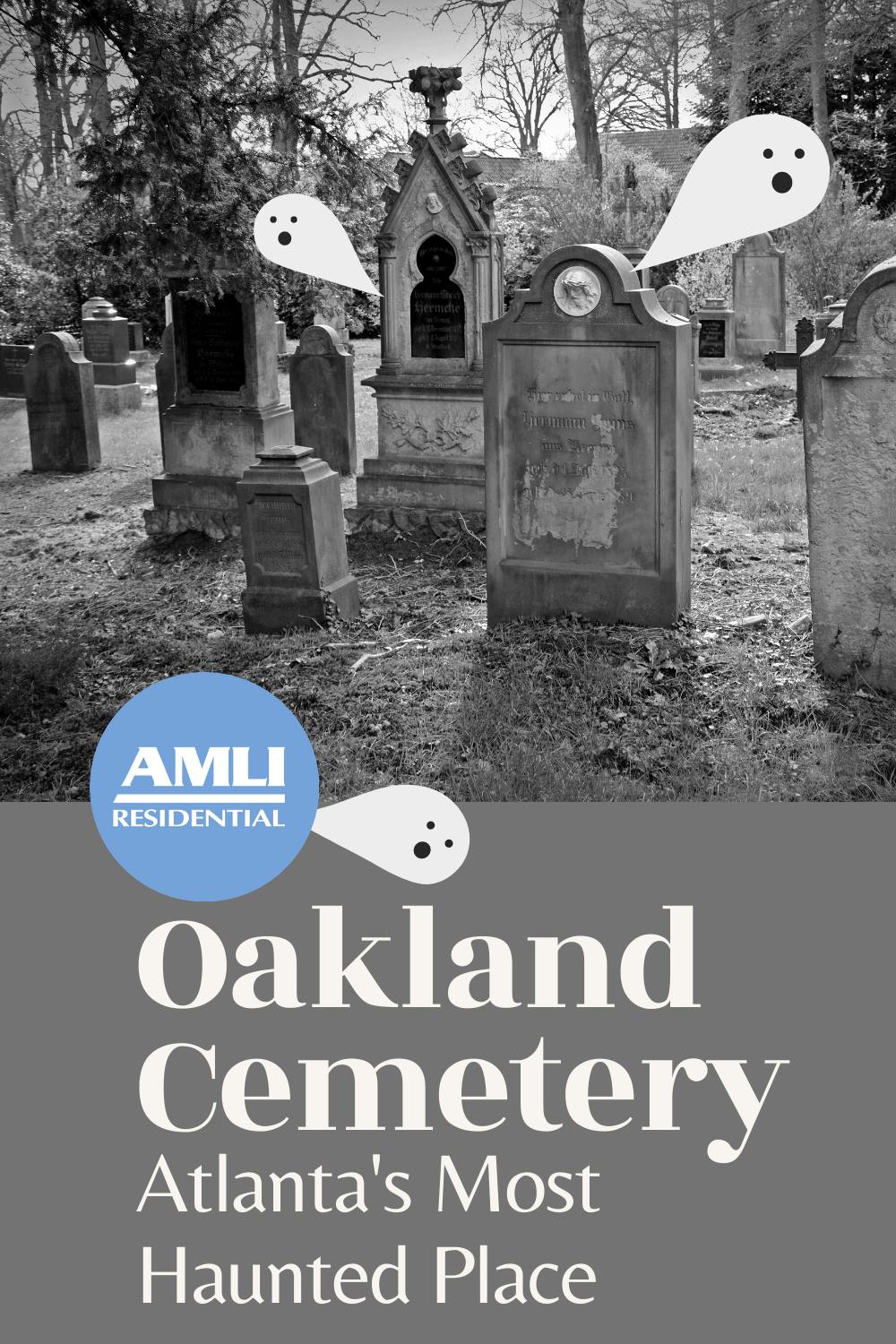 Featured photo courtesy Pixabay/Katrina_S