If you're like me, the last thing you want to be doing on a glorious summer day is spending a few hours in the kitchen cooking dinner.
The idea that dinners have to be fancy just to be good is totally backward, and there are a billion different ways you can cook a healthy, filling and nutritious dinner while keeping the work (and dishes) to a minimum.
Of course, if you're looking for more complex recipes for further down the road, you can always check out our greasy food recipes, 4th of July recipes, Thanksgiving recipes, South African recipes and breakfast recipes, as well as many others, on our blog.
In order to save you time, money and effort when it comes to dinnertime, here are a few tips on how to make your evening meals easy, fresh, nutritious and, most importantly, quick.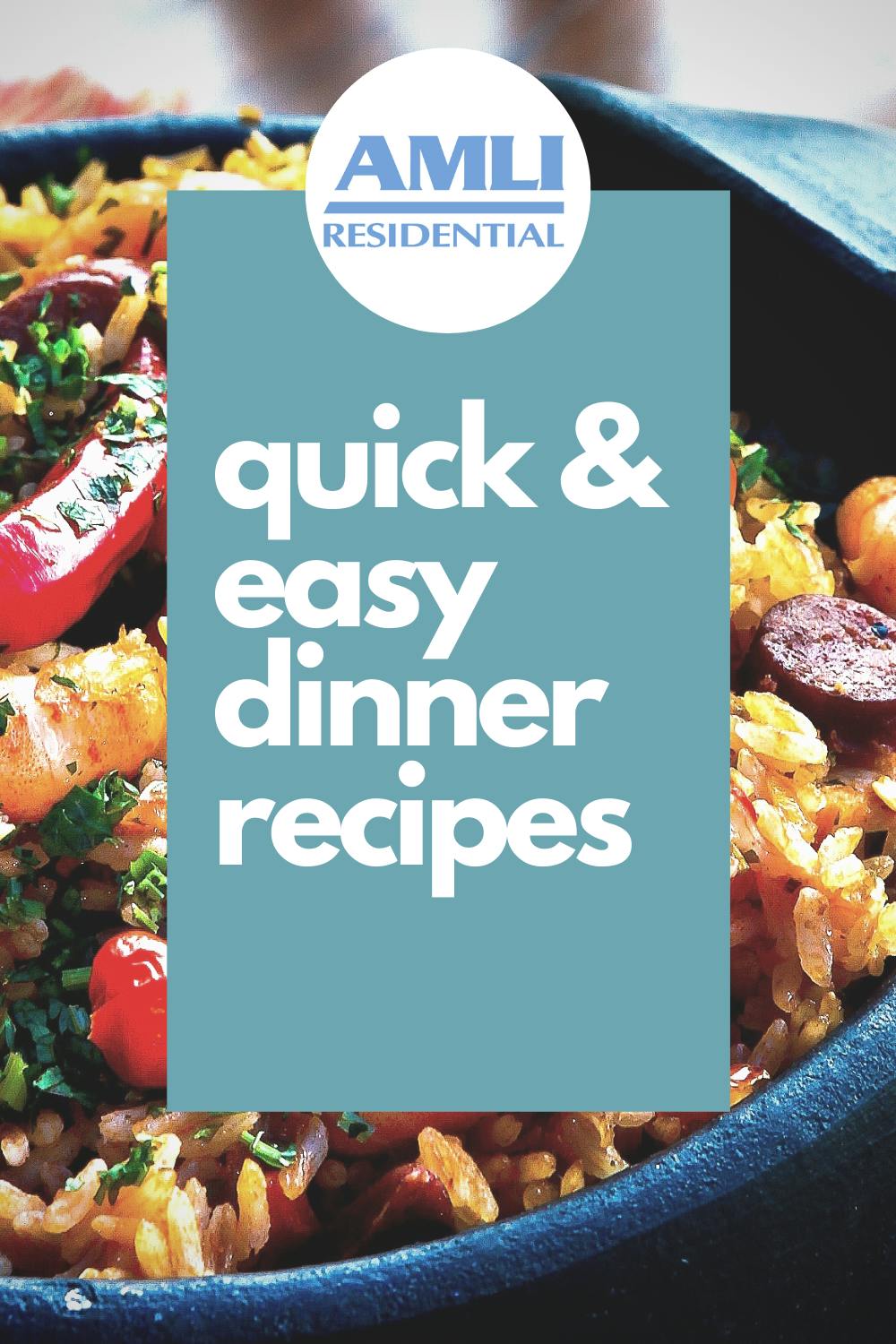 Quick dinner tips
Meal plan
Meal planning can sometimes feel like an intimidating process, but in reality it's actually really easy and can immediately save you so much time, effort and money.
Before you go grocery shopping, think of some of the meals you want to eat in the next week or so (or until you do a large grocery haul again). This is the perfect time to dig through your Pinterest board of recipes you want to try, by the way. Write down the meals you plan for, then write down the ingredients you'll need for the meal. 
Not only does this help you build a solid grocery list, but each evening you'll know that you have all the ingredients you need to start cooking. It's also a great way to make sure you use up all those perishables and that nothing goes to waste.
Pro tip: Don't plan a meal for every single night, as your plans might change or you might have an appetite change. Leave a few nights empty for last-minute dinner dates or leftover nights.
Make extra to use as leftovers
If you're about to roast a tray of veggies for a meal, why not roast extra while you're at it? Taking an extra five minutes to peel a few more potatoes or chop a few more veggies means that you don't have to do any of it for another meal another night.
You can do this with so many different foods without adding much extra effort at all. Making four cups of rice takes the same amount of time as making one cup does. Boiling a dozen eggs is just as easy as boiling two. Cooking five chicken breasts in the oven will take as much time as it takes to cook just one. 
Pro tip: make sure to put the leftovers in a Tupperware BEFORE you dish up your meal. That way, you don't eat more than you need and you minimize the cleanup for later.
Do the dishes first
The worst part about cooking is the cleanup. No doubt about it. One way you can get around this and make your dinner-prep as streamlined as possible is to start cooking with an empty dishwasher. As you cook, toss dirty dishes into the dishwasher instead of the sink, and at the end you can just throw in a cleaning pod, shut the door and let the machine do its work. 
If you don't have a dishwasher, you can still streamline the cleaning process by starting off with an empty sink and drying rack. Fill the sink with warm, soapy water and wash dishes as you go. At the end of the meal prep, you should only have a few dishes left to do before calling it a night. 
Starting and ending your meal prep with an empty kitchen sink will make the cooking process so much faster, and you won't feel the impending doom when you glimpse the pile of dirty dishes in the morning.
Quick dinner ideas
Basic ingredients: salmon, lemons, rosemary, salt, black pepper, olive oil
Cooking fish doesn't take too long because it's usually so thin and flaky, making it a great, nutritious ingredient to keep in your freezer. You can add a side of cooked asparagus and some Minute Rice to make this meal an easy, well-rounded dish suitable for any occasion.
Pro tip: you can cook the asparagus (or whatever vegetable you like) on the same tray as the salmon, if there's space. 
Basic ingredients: mushrooms, garlic, spinach, olive oil, eggs, tortillas, mozzarella cheese, salt and pepper
Who said quesadillas have to be just cheese? These spinach and mushroom quesadillas have a rich flavor and are a great way to get your serving of greens in at the end of the day.
Pro tip: add black beans to the quesadillas to make it more flavorful and filling.
Basic ingredients: tuna, strawberries, spring mix, Greek yogurt, Dijon mustard, avocado, almonds, spices (see recipe for full list)
You can never go wrong with a salad. There's no cooking required, just assembly, and it's great to make in large amounts for leftovers the next day! If you have any foods in your fridge that you need to finish off before they go bad, salads are a great way to put them to good use. 
Pro tip: wrap the salad in a flour tortilla or spinach wrap to make it a quick and easy to-go meal!
Basic ingredients: cherry tomatoes, pesto, pine nuts, spaghetti, fresh basil, Parmesan cheese
This one-pot summery pasta is great for quick prep and minimal dishes. This specific recipe has directions to make your own pesto, but using store-bought pesto can cut down the prep down by almost half! 
Pro tip: you can add some grilled chicken breast to this dish to boost the protein count!
Basic ingredients: store-bought rotisserie chicken, store-bought garlic bread, tomato sauce, herbs and spices, mozzarella cheese
When I have to go grocery shopping, I always plan for an ultra-easy meal like this for when I get home. Unpack groceries AND cook for forever? No, thanks!
Most stores have a section where you can buy hot, precooked rotisserie chickens, and they are the best-kept secret of the cooking world. One of those chickens can make mealtimes so much easier, and this is just one example!
These quick dinner ideas and tips are just guidelines, of course, but we hope you find them useful and helpful in your future foodie forays!
Enjoy!
Pin it!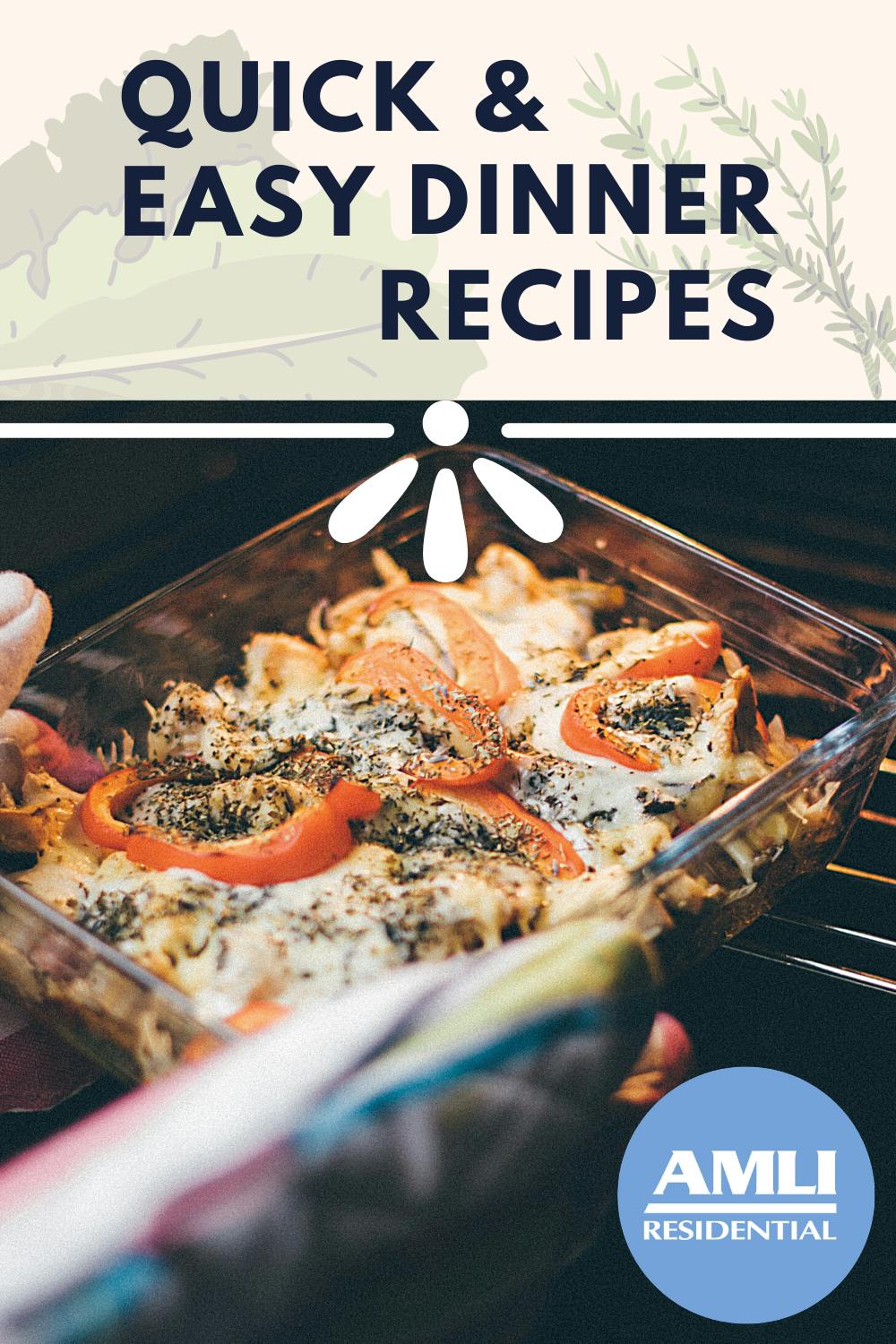 Featured photo courtesy Pixabay/JESHOOTS-com