As it turns out, there is much more under the sparkling waters of Miami than just ocean life!
The coast of Florida has long been a popular maritime route for merchants, travelers, colonists, soldiers and, of course, pirates. The fair seas, luscious coastline and ample ports have made the Gulf of Mexico, the Caribbean and the Florida Keys ideal routes of passage for centuries. 
For most ships, that is. 
Although the likelihood of running aground is a lot smaller nowadays, back when vessels relied on antiquated navigation techniques and a distinct lack of modern radar and sonar systems, shipwrecks were pretty common. Most of the time, shipwrecks were caused by shallow waters or storms, but there are always the juicy tales of piracy on the high seas that sweetens the legends surrounding these sunken vessels. 
Pirates preyed on merchant vessels passing through the Florida Keys for decades, hiding behind small islands and establishing pirate coves throughout South Florida. Black Caesar, one of Florida's most feared, infamous and mysterious pirates, made the area known as Biscayne National Park today his very own piracy headquarters from which he conducted all his nefarious deeds. There, according to legend, Caesar buried around $6 million worth of gold in the sandy shores, none of which has been recovered.
The Biscayne National Park area has obviously played a fairly large role in South Florida's history. Stories of buried treasure delight Floridian treasure hunters up and down the coast, and tales of shipwrecks littering Miami's ocean floor bring a sense of intrigue to any amateur historian or adventurer anywhere. Plus, the natural sanctuary houses a wide variety of flora and fauna that also call Miami their home. 
There's so much evidence of Miami's history lying dormant under the crystal-clear waters of Biscayne National Park. Some of the coolest pieces of history that we can see here are the many shipwrecks that are scattered under the sands of the bay. Some are only accessible by scuba diving, some can be accessed by snorkeling, but every single one of them tell an absolutely fascinating tale of Miami's history. And, if you live in our luxury South Florida apartments, you can check them out for yourself!
To honor the historical significance of these shipwrecks, there is a dedicated maritime "trail" that allows visitors to explore the six shipwrecks in the park. If you visit, you can grab brochures for each of the wrecks that detail all the information you'd ever need to satisfy your curiosity. If you can't go to the park, well, that's what we're here for. 
So grab your snorkels and your fins, fill up your oxygen tanks to the brim and let's head underwater to check out these sunken shipwrecks in Biscayne National Park!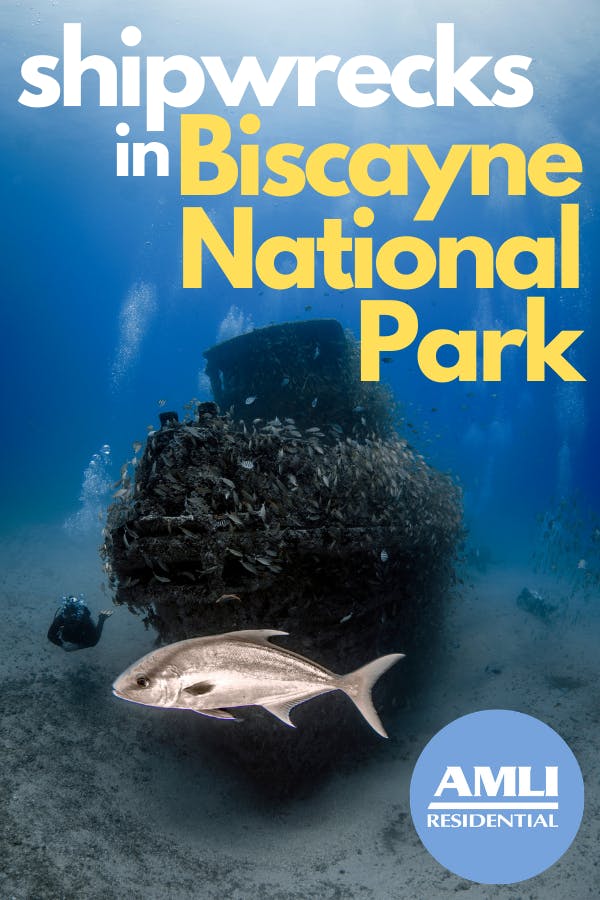 Shipwrecks in Biscayne National Park
Sunk February 17, 1878
We already covered this fascinating shipwreck a little in our article on South Florida shipwrecks, but it's a fascinating example of irony and very, very poor timing. 
The SS Arratoon Apcar was a British steamship travelling through Florida's waters on its way back to London from Havana, Cuba. It ran aground on some rocks just southeast of Miami and, although no one was hurt, the ship had to be abandoned on the rocks. 
The ironic part of this whole situation was that the ship ran aground on Fowey Rocks, a reef of rocks named after another sunken ship in the same area. The area was so notorious for sinking ships that it had been determined that a lighthouse would be needed to prevent further wrecks. 
This lighthouse was, quite literally, weeks away from completion when the SS Arratoon Apcar ran aground on the very rocks it was commissioned to help ships avoid. In fact, the ship came so close to the construction crew that the workers narrowly avoided being struck by the trans-Atlantic steamship. 
If the ship had set sail a few months later, the lighthouse would have been there to guide the vessel to safety. Unfortunately, it's still stuck on Fowey Rocks today. 
Sunk December 16, 1891
This Scottish cargo ship ran aground on its way to New Orleans from England when it struck the Long Reef off the coast of Key West. The Erl King was a massive three-masted steamship that weighed well over 1600 tons, carrying cargo to and from Asia, North America and Europe frequently. The ship played a large role in the tea races of the mid-to-late 19th century, carrying millions of pounds of tea from China to England in a race to get the highest price for the leaves. 
Sunk April 20, 1905
When this treasure-laden vessel ran aground in 1905, it caused such chaos among treasure-hunters and scavengers that the United States government had to permanently rewrite its salvaging laws! 
Lugano
Sunk March 9, 1913
The Lugano had a slow, drawn out end that made headlines in Miami for weeks, making for a great shipwreck story today!
The massive cargo and passenger ship struck rocks on Long Reef during a storm, grounding the vessel and its passengers. Tug boats took all the passengers to shore while the captain and crew remained on board to help salvage the cargo, which included silks, wine, rice, foods and other goods valued at over $1 million. 
By April 4, nearly a month after originally running aground, the Lugano's crew abandoned the ship and stopped draining the hull. Any attempts to move or refloat the ship stopped on April 15, as the massive ship was too deep and too heavy to move.
At the time, the Lugano was the largest ship to sink on the Florida reefs.
Sunk January 1, 1966
This gorgeous cruise ship carrying passengers from the Bahamas ran aground on Long Beach on its way to Miami, just miles from its destination. 
What a way to start the new year!
Unknown 19th century wooden vessel
Sunk ???
We don't know much about the origins or age of this unidentified shipwreck, but we do know that it's likely the oldest wreck in the park. The only evidence of its existence is the small pile of ballast stones that sit alone on the ocean floor.
Pin it!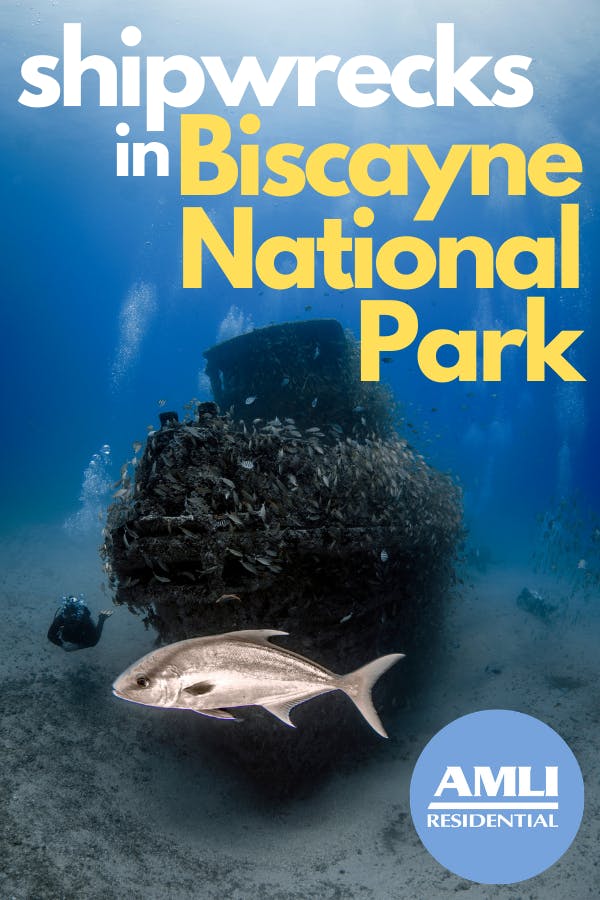 Featured photo courtesy Pixabay/marc140265