Some cities are known for their cocktail culture. Chicago is known for its classics and old fashioneds, Los Angeles is famous for its Moscow Mules and New York is famous for, well, everything.
Texas is also home to some amazing cocktails, including some classic Texas twists on some popular ones. 
Whether you're ordering at your favorite bar or you're trying your hand at mixology at home, check out these Texas-themed cocktails!
Texas-themed cocktails
Margarita
The true origins of the margarita are a little hazy, but most stories tend to center around Mexico and the South Texas region as the recipe's birthplace. The word "margarita" is Spanish for "daisy," which is the name of a similar drink made using brandy instead of tequila. The recipe was first mentioned sometime between the mid-1930s and late-1940s, although the exact origin story varies widely among historians.
Either way, the margarita has its origins in the Texas/Mexico region, so what better place to enjoy this Texas cocktail right here in Dallas?
Ingredients:
1 lime wedge, plus a lime wheel for garnish
½  tablespoon kosher salt, for glass rim
2 oz. (60ml) high-quality blanco tequila
1 oz. (30ml) Cointreau
¾ oz.(22.5ml) fresh lime juice
Scatter salt onto a small plate. Rub the lime wedge around the rim of the glass, then dip the rim in the salt to coat.  
Combine the tequila, lime juice and Cointreau in a cocktail shaker filled with ice, then shake until chilled. Fill the salt-rimmed glass with ice and strain the margarita mixture over it. Garnish with the lime wheel and serve. 
Ranch Water
This crisp, cool cocktail is a summer staple in hot, hot Texas! Head to any bar and you're sure to be able to order one of these iconic drinks.
Based on the equally popular margarita, ranch water is a pared-down version of the drink that's simpler and lighter than the marg. The ratios are flexible, and flavors can be added to suit personal taste, making it a perfect at-home cocktail
Ingredients:
3 oz. blanco tequila
1 ½ oz. lime juice
Topo Chico (sparkling water)
Lime wedge, to garnish
Add tequila and lime juice to a highball glass filled with ice. Top with Topo Chico and garnish with the lime wedge. 
Texas Gentleman
This Texas take on the classic old fashioned adds notes of coffee, chocolate and orange to the strong, whiskey-based drink. Be sure to use Austin-distilled Caffe Del Fuego coffee liqueur in this drink, too, bringing the Texas-sourced ingredients full circle!
Ingredients:
2 oz. blended Texas whiskey
½ oz. Caffe Del Fuego 
3 dashes chocolate bitters
3 dashes Fee Brothers Aztec
Orange peel, to garnish
Add ingredients to a rocks glass, then garnish with the peel.
Tito's Texas Sipper
This minty vodka cocktail is the perfect blend of citrus and sweet elderflower, and the Texas brand Tito's Handmade Vodka is the perfect spirit to use as a basis.
Use a Texas red grapefruit grown in the Lower Rio Grande Valley, as it will not only provide a sweeter, redder drink, but it's also the Texas state fruit!
Ingredients:
1 ½ oz. Tito's vodka
½ oz. elderflower liqueur
2 oz. sparkling water
1 ½ oz. grapefruit juice
Mint sprig, to garnish
Combine vodka, liqueur and juice in a shaker with ice. Shake and strain into a glass over ice. Top with sparkling water and garnish with mint.
Texas-Style Bloody Mary
Bloody Mary drinks come in all shapes, sizes, colors and forms, so of course it makes sense that Texas would get in on the trend. 
What makes a Texas-style Bloody Mary, you ask? There's no real consensus on that, and different Texans make their drinks differently depending on the individual. However, there's usually some form of extra kick of strong flavor, like in this BBQ-flavored Bloody Mary below. 
Ingredients: 
2 oz. vodka (use Tito's Handmade Vodka for an extra Texas kick!)
4 oz. tomato juice
1 tbsp. Good quality smoky BBQ sauce
1 tsp. Worcestershire sauce
½ lemon, juiced
Celery salt, to taste
Optional garnishes
Combine all ingredients (aside from garnishes) together in a cocktail shaker with some ice and shake well for 10 seconds. Pour into a glass over ice and garnish.
Texas Prairie Fire
This shot is small but oh-so mighty!
The Texas Prairie Fire is aptly named for its tabasco sauce and lime juice, both of which are sure to send heat rippling through your taste buds like a fire through a prairie.
Ingredients:
¾ oz. tequila
Lime juice
Tabasco sauce
Pour tequila into a shot glass, then top off with lime juice and squirts of tabasco sauce to taste. Shoot. 
Texas Hurricane
It's sweet, it's smooth and it's strong.
The Texas Hurricane is the bigger, brighter and bolder cousin of the classic Long Island Iced Tea, and it packs enough punch to start a natural disaster. And when we mean it's strong, we mean it's really strong, so be responsible with this powerhouse of a cocktail!
Ingredients:
1 oz. dark spiced rum
1 oz. coconut rum
1 oz. vodka
1 oz. gin
1 oz. Triple Sec orange-flavored liqueur
2 oz. orange juice
1 oz. pineapple juice
1 oz. grenadine syrup
1 cup crushed ice
1 oz. 151 proof rum
Garnishes (optional)
Blend all the first eight ingredients in a blender or shaker until mixed. Fill a hurricane glass with crushed ice and pour in the mixture. Float the 151 proof rum on top of the drink by pouring it gently over the back of a spoon into the glass. Garnish with the orange slice and cherry. Enjoy responsibility. 
If you live in our luxury Dallas apartments or anywhere in Texas at all, then give these Texas-sized treats a try next time you're out!
Pin it!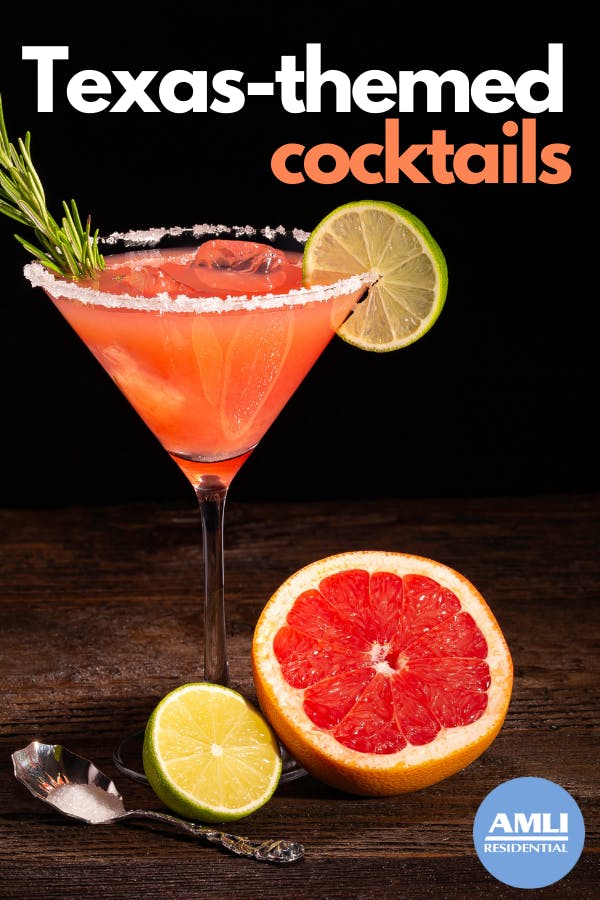 Featured photo courtesy Pixabay/SocialButterflyMMG