Houston is full of amazing museums. From NASA's space center to fine art museums to zoos, aquariums and more, the Houston CityPASS allows you to visit some of the city's best museums at a fraction of the cost. 
What is the Houston CityPASS and where can I go?
What is the Houston CityPASS?
The Houston CityPASS is an exclusive ticket that allows ticket holders to visit five of the city's best museums at nearly half the regular price! 
A ticket grants the holder access to the Space Center Houston, as well as four other museums of their choice: 
The Downtown Aquarium
The Houston Museum of Natural Science
The Houston Zoo
The Kemah Boardwalk
The Children's Museum Houston
The Museum of Fine Arts in Houston
How long is the Houston CityPASS valid?
After you purchase your CityPASS ticket, whether online or in-person, you have one year to visit your first museum. Once you visit that first museum, though, you have just nine days to use your ticket before it expires. 
There's no limit to how many museums you can visit per day, which is nice, but plan on spending a decent amount of time in each one to really get as much out of the tickets as you can. Some museums might also require reservations or timed entry slots, so check with each one in advance to reserve your spot if you need to. 
How much is the Houston CityPASS?
The Houston CityPASS is $64 per adult (12+) and $54 per child (ages 3-11). 
For comparison, here are the admission prices for each museum separately:
Space Center Houston: $30 per adult, $25 per child
Downtown Aquarium: $16 per adult, $14 per child
Houston Museum of Natural Science: $25 per adult, $16 per child
Houston Zoo: $28 per adult, $22 per child
Kemah Boardwalk: $28 per adult, $21 per child
Children's Museum Houston: $15 per adult, $15 per child
Museum of Fine Arts, Houston:  $19 per adult, $12 per child (ages 13-18)
If you were to visit five of these museums separately and pay their individual admission fees, you'd end up paying around $130 per adult and $100 per child at the minimum! 
Where can I go with the Houston CityPASS?
Houston's involvement in space exploration missions is famously remembered for its often-mispronounced line "Okay, Houston, we've had a problem here," uttered by Apollo 13 astronaut Jack Swigert in 1970. 
Houston has been the headquarters of NASA's manned spaceflight programs since the Gemini IV mission in 1965, and many famous faces and iconic missions have passed through the halls of the Johnson Space Center. 
Visitors can explore the attached visitor center and see some one-of-a-kind artifacts from missions past and present. Check out the SpaceX Falcon 9 rocket or the decommissioned satellites and space suits! It's a wellspring of space exploration history and a must-see if you're in Houston.
Quite frankly, it's out of this world! 
Gaze into 500,000 gallons' worth of aquatic animals and plants here at the Downtown Aquarium, where over 300 species of marine life, coastal creatures and swamp critters live. 
The Houston Museum of Natural Science has a bit of everything for its visitors, with exhibits ranging from ancient fossils to modern medicine to Texas wildlife and more.
Meander through halls filled with prehistoric skeletons, learn about the ecology of an African savannah and study the intricacies of North America's indigenous cultures. Natural science is not all about the past, though, and the exhibits on energy, electricity and power fit right in here at the Energy Capital of the World.
The Houston Zoo is a massive complex featuring a wide range of environments in which its inhabitants reside.  
Check out the South American Pantanal, which delves into the dense forests of Brazil, from which creatures like jaguars, howler monkeys, capybaras and macaws originate. Be sure to stop by the McNair Asian Elephant Habitat, too, where a dozen elephants roam peacefully in their protected environments. There's also the immersive Texas Wetlands exhibit, which showcases the many animals, birds and flora that live in our very own backyards!
Rollercoasters, waterfront restaurants, games, live music, shopping, festivals — what more can we say? It's like Coney Island, Texas style!
Ranked as one of the best children's museums in the nation, the Children's Museum Houston is a top-tier destination for fun and learning. 
Highlights here include interactive exhibits on green energy and sustainability, design workshops with building materials, hands-on exhibits on water and the water cycle, challenging obstacle courses and so, so much more!
Side note: can we petition for a grown-ups' version of this place, please? Anyone? 
Last but certainly not least, the Museum of Fine Art in Houston is an absolute must-see if you're interested in art even a little. 
Houston has long been a city that appreciates art, and the MFAH is filled with over 70,000 works from private collections, traveling exhibitions, ancient artifacts and more! There's art from Renaissance Europe, Pre-Columbian eras and Modern America, not to mention ancient Islamic art, Native American art, post-impressionist sculptures, pieces from Picasso, modern prints and about a hundred other collections. This museum really is, in itself, a piece of art. 
Where can I get a Houston CityPASS?
You can buy a Houston CityPASS here at this website, after which you will receive your mobile ticket. You can also buy the ticket in-person at the participating museums.
If you live in or near our luxury Houston apartments, then the Houston CityPASS is a great way to experience the many things your city has to offer. Give one to a friend, to a visitor or keep one for yourself!
Enjoy!
Pin it!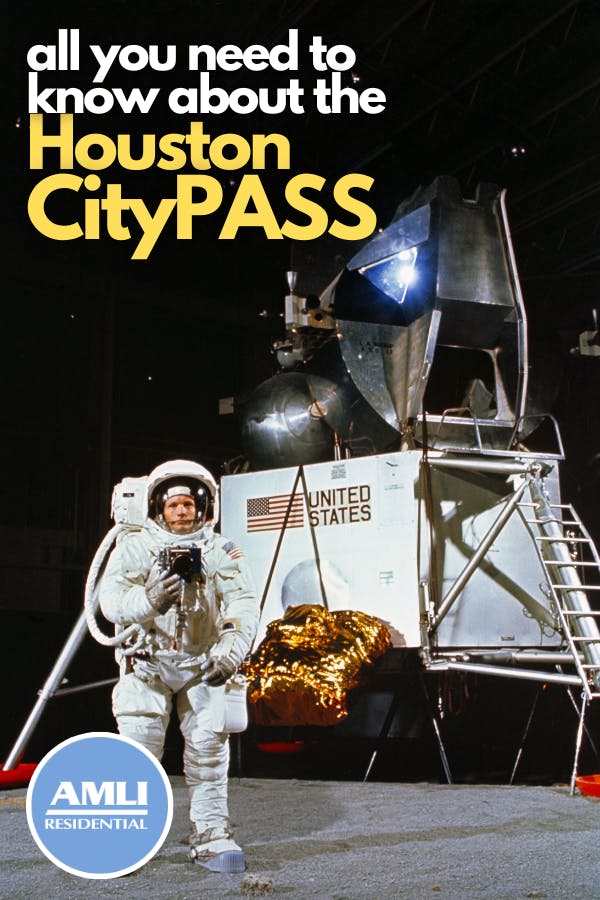 Featured photo courtesy Pixabay/Falkenpost