There aren't many places in the country where you can find landscapes so diverse as you can in California. From warm, sunny beaches to vast deserts to mountain peaks and jagged, snowy peaks, California's natural landscape is a powerful reminder of the wild, wild world outside the hustle and bustle of the sprawling urban metropolises we spend our days navigating. 
One way that we can enjoy these wild places and protect them from the tidal wave of urbanization is through the work of the National Park Service. You're undoubtedly familiar with how quickly towns and cities can spread over a landscape, especially in the jam-packed cities of California, so having land set aside for the preservation of both culture and nature is vital to protecting the world as we know it for future generations. 
If you live in our southern California apartments, then you may already be familiar with some of the national parks and preserved lands around Los Angeles. From meandering through giant forests to snowshoeing up mountains to dodging desert cacti, you can explore all the beautiful and terrifyingly wild landscapes that the Golden State has to offer. And it's all within a few hours' drive from your luxury apartments!
National parks near Los Angeles
Drive time: 2 hours 16 minutes
This popular park has already been featured in our list of day trips from LA, but we'll give you a little refresher anyway!
Joshua Tree National Park captures the unique geologic and environmental features that exist at the meeting point of the Mojave and Colorado deserts. See how the picturesque Joshua Trees of the Mojave slowly give way to the barren sand dunes and grasslands of the Colorado, and learn about the many animals and insects that share the unique desert ecosystem. 
Drive time: accessible only via boat or plane
You may be able to see these islands from the mainland, but this offshore ecosystem couldn't be further from the real world. The quiet coves and wildflower-filled meadows offer an indescribably peaceful camping, hiking and outdoor experience that feels worlds away from life on the mainland.
Drive time: 3 hours 24 minutes
Meandering through the forests of giant sequoias is both a magical and humbling experience that is unique to California's Sierra Nevada mountain range. These massive trees have called California home for longer than most humans have, with the oldest tree in the park (also the oldest single-stem tree in the world!) dating back to around 700 B.C! 
Sequoia National Park is one of the oldest national parks in the world, having been established in 1890. It's connected to the more-recently established Kings Canyon National Park, which was established in 1940. 
Drive time: 3 hours 24 minutes
This national park is aptly-named for its sweltering heat and dry air. However, this extreme environment is teeming with beauty and life. Hearty wildflowers carpet the valley floor in the spring and sprinkles of snow coat the barren slopes in the winter, and animals and insects of all kinds gather together around the drought-resistant oases that nurture life in this harsh land. 
Drive time: 4 hours 22 minutes
Named for the clustered spires of pointed rock formations rising from the sprawling mountains, Pinnacles National Park features a fascinating landscape of ancient geological features. Explore the caves and valleys formed by ancient volcanic eruptions, and see how the animals and birds have made these unique cracks and crevasses their home.
Drive time: 4 hours 29 minutes
Although Yellowstone National Park (est. 1872) is considered to be the first national park in the United States, Yosemite was placed under federal protection eight years before in 1864, making it one of the oldest pieces of protected land in the country. The towering granite cliffs and plunging waterfalls are just some of the natural features that make Yosemite National Park one of the country's most beloved parks. 
Meander through vast meadows circled by panoramic mountain peaks, or sit in the tranquility and otherworldliness of the ancient sequoia forests. 
Drive time: 38 minutes
Located just a few miles outside Los Angeles and even closer to our apartments in Camarillo, the Santa Monica Mountains National Recreation Area provides a sprawling wilderness and blessed isolation right outside the city limits. Hike through 500 miles' worth of trails that weave through valleys, up peaks and along rivers, or relax on the beach and soak up some of that famous California sunshine. 
There are many places to visit in the Santa Monica Mountains NRA, like Point Mugu State Park or Paramount Ranch, so be sure to check out all the options! 
Drive time: 2 hours 33 minutes
Dusk-purple wildflowers flowing over gentle sand dunes and silent desert canyons are just a few of the reasons you should definitely visit the sprawling 1.6 million-acre preserve. This high desert offers a cooler climate than the neighboring Colorado Desert to the east, and the fauna and flora that call the region home have been stewards of the ancient landscape for as long as the desert itself. You can also spot the abandoned mines, military encampments and homesteads that tell of both humanity's past and the land's extreme wilderness.
Next time you feel a little cabin-feverish and are craving some time soaking in California's natural beauty, plan a trip to one these national parks around Los Angeles! You'll learn something new, see something you've never seen before and come back feeling refreshed and renewed. After all, you live in one of the most beautiful places in the country, so why not take advantage of it?
Have fun!
Pin it!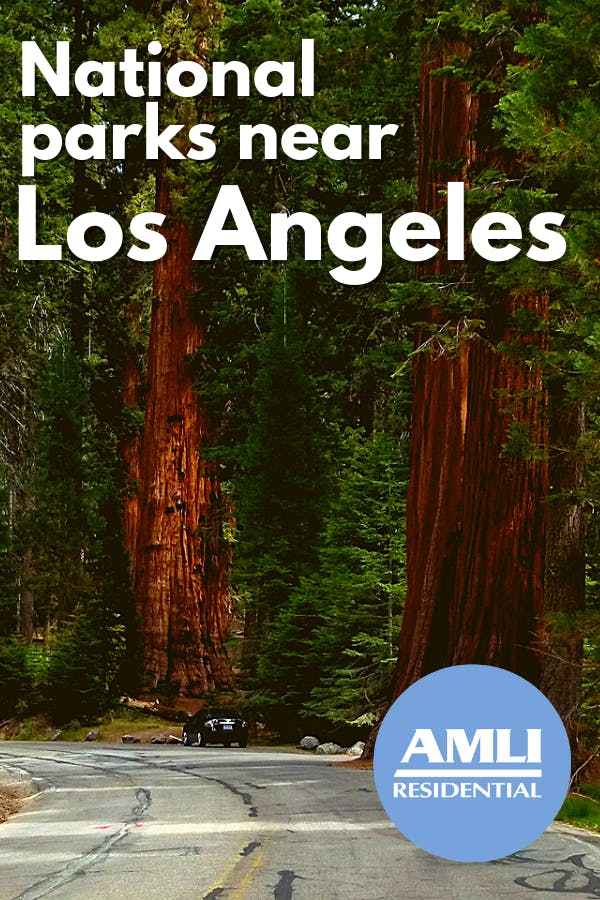 Featured photo courtesy Pixabay/Free-Photos