Miami is a city of many cultures, communities and peoples. Which, of course, means that there is a lot of outstanding food, too! 
Living here in our luxury South Florida apartments means you have instant access to all the delicious offerings available in South Florida. Here are some of Miami's most popular and famous local dishes, plus recipes on how to make them!
Famous foods from Miami
Arroz con frijoles y croquetas
You can find white rice and beans at any Cuban eatery, no doubt about it. It's a hearty side dish to accompany meats and vegetables, but it also works exceptionally well alongside a nice, crunchy croqueta. This combination makes for an ideal lunch, thanks to its pack of protein and easy preparation. 
Here's a recipe for arroz con frijoles y croquetas.
Arepas
Arepas are what regular bread can only dream of becoming. 
These versatile maize breads allow for any type of fillings, making them perfect for anything from a breakfast meal to a light snack to a full-on dinner feast!
Chicharrón
Though the dish seems simple, these simple fried pork skins or belly are a staple all over Central and South America, and Miami's diverse population has brought the delicious snack with them to roost in our very own city. Snack on them on their own, or add them as a side to a good Cuban sandwich!
Here's a recipe for chicharrón.
Ceviche
Why have salsa when you can have ceviche?
Made with ultra-fresh raw fish soaked in lime juice and topped with chili, ceviche is the perfect dish for those hot summer days. Serve this refreshing mix alongside another entrée or enjoy with some fresh tortilla chips — the options are endless!
Churrasco (steak)
Argentine cooking made its way to Miami in the 1990s, and boy are we glad! 
The cuisine known for its wine and steak has brought some truly delectable dishes to South Florida's culinary scene, including churrasco served with chimichurri sauce. The neat thing about this dish is that you can use any cut of meat when cooking in churrasco style, so take full advantage of all the seafood Miami has to offer!
Here's a recipe for churrasco.
The Cuban sandwich
You know we couldn't leave out the iconic Cuban sandwich from our list!
This sandwich, made with roasted pork, Swiss cheese, baked ham, mustard and dill pickles, is one of those dishes that is surprisingly complex for its simplistic construction. The quality of these ingredients certainly makes a huge difference in the final result, as do the skills and techniques of the cook making it. Find a family recipe, if you can, for the best and most flavorful sandwich you could ever hope to find!
Here's a recipe for a Cuban sandwich.
Fried snapper
Hailing from Haitian communities and kitchens, this fish dish is a hit thanks to the abundance of fresh red snapper available around South Florida. Plus, it takes less than ten minutes to fry from start to finish, and who doesn't love an easy-but-delicious meal?
Here's a recipe for fried snapper.
Grilled fish sandwich
With the longest coastline in the nation, it's no wonder that seafood and fish account for most of South Florida's popular dishes. And with such great seafood, even a simple grilled fish sandwich can feel like a Michelin star meal.
Pick up some fresh grouper filets from your local seafood market in Miami and make them for yourself!
Here's a recipe for a grilled fish sandwich.
Key lime pie
Need we say more?
It's light, it's fresh, it's creamy and it's tart, and it's absolutely the best kind of pie out there. We'll fight you on that. 
Here's a recipe for key lime pie.
Mofongo
This dish originates from Puerto Rican kitchens and has become popular here in Miami. 
The star ingredient is fried plantains, which are then mashed and shaped into a mound. Serve with chicharrón or some chicken broth and you're good to go!
Ropa vieja con arroz blanco y mariquitas
This is a hearty Cuban dish that's beautifully slow cooked in a beef reduction and vegetable sauté. The result is a melt-in-your-mouth steak that falls apart in a rich broth, making it well worth the wait! Serve with white rice (arroz blanco) and fried plantains (mariquitas) for a well-rounded meal.
Here's a recipe for ropa vieja con arroz blanco y mariquitas.
Stone crabs
If South Florida had an official dish, then this would be it. 
In the months of October through March, South Florida's waters yield some of the best stone crabs around. They are more tender than their Blue and Golden Crab counterparts, so find some that are served on ice to get their freshest, most refreshing crab of your life!
Here's a recipe for cooking stone crabs.
Shrimp and watermelon salad
This simple salad is a perfect representation of Miami's local produce — fresh seafood and juicy fruit!
Shrimp and watermelon are stars of the salad, but toss a little mint, arugula, cilantro, basil and jalapenos into the mix for a truly wonderful South Florida treat!
Here's a recipe for shrimp and watermelon salad.
Traditional fritas
When a regular burger just won't do, then a traditional Cuban frita is there to save the day.
Frita burgers are made with a beef-pork patty topped with shoestring fries nestled in a toasted bun, creating the perfect crispy, crunchy burger. Add some sauce, fresh lettuce, onion and tomatoes, and you've got yourself a Cuban masterpiece just waiting to be enjoyed!
Here's a recipe for traditional fritas.
So, if you've spent any time at all in Miami and want to learn more about the dishes, meals and foods that make up so much of the city's culture, look no further than this list of famous Miami foods! Give them a go at home and see how they turn out!
Enjoy!
Pin it!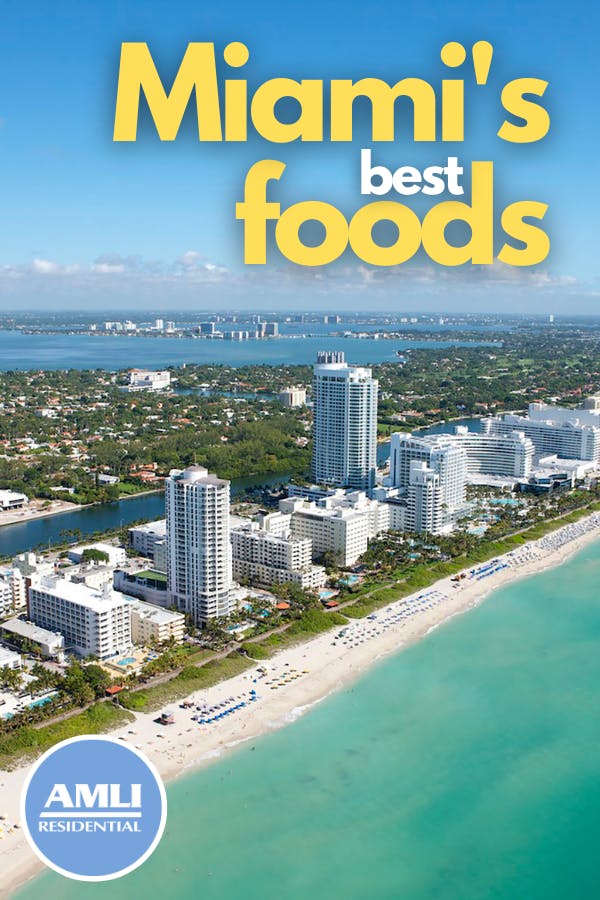 Featured photo courtesy Pixabay/TootSweetCarole