We love, love, love living in Dallas! 
From the location to the opportunity to the culture and more, Dallas has so much to offer in terms of lifestyle and personal taste. Any one of our Dallas apartments are close to something interesting to see or do, and with the city growing more every year, we're sure there'll be plenty to keep us occupied all our lives. 
Here are just a few reasons we love to live here in Dallas!
Why we love living in Dallas
Did you know Dallas' streets used to be crisscrossed with streetcars? 
There are only two in operation today — the M-Line and the Dallas Streetcar trolleys — but back in the late 1800s and early 1900s, streetcars were the most efficient and convenient system of public transportation in the city. There were over 300 cars roaming Dallas until buses replaced them in the mid-1930s!
Dallas is a big city, but with the many parks spread throughout the suburbs and neighborhoods it feels like you're never too far away from some fresh air and quiet nature. 
From long trails following meandering streams to open-air sculpture parks to secluded patches of grassy lawns, you're sure to find something to enjoy near you!
While there's certainly plenty to do within the city, Dallas is not too far from some interesting and unique out-of-town destinations. Head to one of the many surrounding lakes for a day on the water, or head up to nearby Oklahoma for some scenic waterfalls and shaded trails. There are wilderness parks, ziplining curses, ancient rock formations and so much more to keep you entertained!
You heard right!
Grapevine, which is right between Dallas and Fort Worth, is the official (yes, official!) Christmas Capital of Texas. And there's good reason for it! 
From mid-November onwards, the City of Grapevine goes all out on its Christmas festivities. Spectacular light shows bedazzle city hall with 45-minute displays of color, light and music every night. The North Pole Express paints the city's railroad history with mistletoe and snow for children of all ages. Vintage wine trains decked out in festive décor depart from Grapevine station every night, and the massive Gaylord Texan delivers an immersive Christmas experience like no other! 
Dallas is surrounded by lakes that offer plenty of outdoor recreation opportunities all year 'round. Boating, fishing, tubing, camping, hiking and more are commonplace at the many parks and beaches surrounding the lakes, and with seven thousand lakes around Texas there's certainly no lack of opportunity to enjoy them!
Vibrant neighborhoods 
The City of Dallas is pretty spread out, and the neighborhoods that make up different portions have created their own pockets of culture, entertainments and personalities. 
Take Addison, for example. Though just north of Dallas proper, the neighborhood is known for its wide variety of restaurants (more than 170!), abundant parks (17 in the neighborhood alone) and for the three-story Galleria Dallas mall that's known throughout the state as the place to be for the latest in retail. 
Dallas has some crazy weather, especially when it starts thunderstorms in April and May.  This is all thanks to a combination of geography, wind streams, proximity to the Gulf of Mexico and, of course, the vast flat plains to the north that funnel powerful weather down the center of the continent. 
Whatever the cause of these Dallas storms may be, you're not likely to find a thunderstorm as impressive anywhere else!
Dallas has been a hub for innovation and progress for decades, and some truly fascinating inventions have emerged from the minds of Dallas residents. 
Ever used a calculator in school? Yeah, that's thanks to a Dallas mathematician. 
How about a cool snow cone on a summer's day? Yup. Also a guy from Dallas. 
Drive thru banking? Dallas.
German chocolate cake? Dallas, surprisingly.
Doritos? Dallas.
You get the picture.
A home for people of all nations 
As of 1990, nearly 18% of Texas' population was of German descent, making it the third-largest population of a particular nation origin in the state. 
Feeling peckish? Dallas has got you covered! 
The city's vibrant assortment of residents from all over the world bring an equally vibrant array of food, meaning you can try anything from Mongolian to Filipino to Nepali to Indian and more right here in the city! 
Abundant wildlife, right in the city!
Humans aren't the only ones calling Dallas home. 
Take some time to pause on your next walk and keep an ear out for the many birds who have made the city their home. From elegant gray blue herons to powerful hawks to dainty killdeer and more, Dallas' urban wildlife ensures you are never too far away from the sights and sounds of nature. 
And sure, there are plenty more people from all over the world here in the state, but the cities as we know them today (including Dallas) are here as a direct result of the people and immigrants who brought their knowledge, traditions, food (yum!) and expertise with them. Texas is a land of many peoples, and Dallas reflects that in its own city borders!
World-renowned architecture
What do Dallas and Paris have in common? The famous Louvre Pyramid (ever watched "The Da Vinci Code"?) and five of our very own Dallas buildings were all designed by the same world-renowned architect I. M. Pei! Including, of course, our AMLI Fountain Place neighbor, Fountain Place. 
Dallas' place on the global fashion stage is all thanks to Neiman-Marcus, a once-small clothing store that turned into a world-renowned fashion corporation as the oil industry in Dallas grew.
Today, the city is home to an impressive variety of retail stores, modeling agencies, textile manufacturers and fashion companies that continue to make Dallas residents some of the best dressed in the state. 
For these reasons and many others, you can appreciate this every-growing city even more! Enjoy!
Pin it!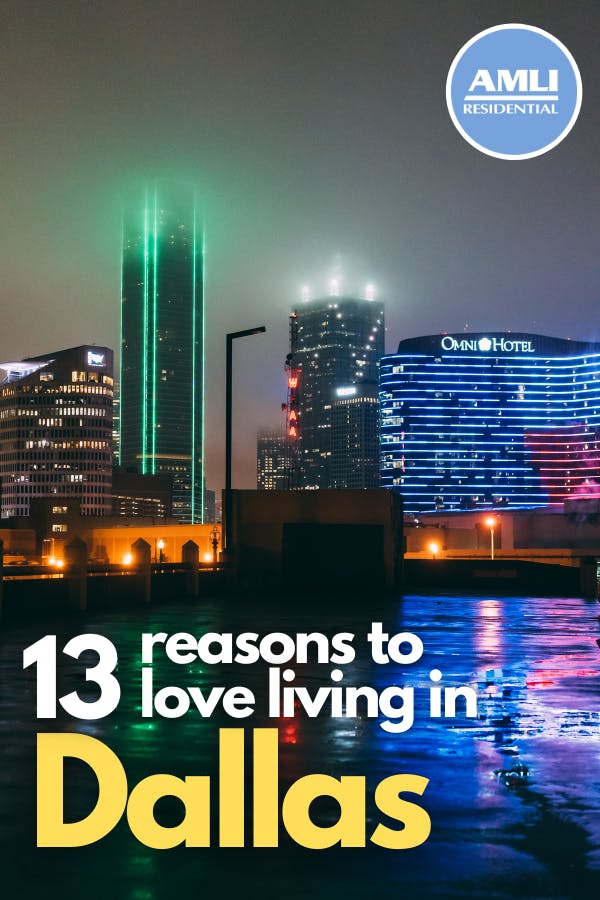 Featured photo courtesy Pixabay/TimUrban89