We really love Seattle. Like, a lot!
After all, there are good reasons why we have so many luxury Seattle apartments here, and a lot of them have to do with all the amazing recreation and entertainment opportunities right here west of the Cascades.
While there are certainly a million different reasons to love living here in Seattle, here are just a few of our own personal favorites!
Why we love living in Seattle, WA
Endless outdoor adventures
Ski, snowboard and snowshoe recreation galore!
Whether you're heading to Snoqualmie Pass to ski, to Mt. Baker to hit some backcountry trails or to Barclay Lake to traverse some snowshoe trails, there is an abundance of top-tier winter recreation locations for skiers, snowboarders and snowshoers alike. Plus, practically everywhere has outstanding scenery, so you just can't go wrong!
Gorgeous hikes
The changing seasons bring new color palettes to the mountainsides and meadows, so you're sure to enjoy hiking (and hiking sustainably, no less!) around Seattle all year 'round!
Be sure to check out these larch hikes in the fall and these common meadow wildflowers in the spring. You can also find a wealth of fascinating fall mushrooms scattered around the forests in the shoulder seasons, so keep an eye out for those!
Like, all the mountains!
Washington is lucky to have some objectively gorgeous mountain ranges, from the Cascades to the Olympics to the Wenatchee mountains and more! Many of these mountain names are known around the nation as some of the most picturesque and iconic peaks to visit, so how cool is it that we get to live right alongside them?
Much of the landscape was formed by Washington's many volcanoes, five of which are still active and listed as a high threat! This volcanic activity created a unique landscape that sets the Cascades apart from others like, say, the Colorado Rockies. 
Seattle's fascinating history
When it comes to the city itself, history and the city's diverse background play a large part in Seattle's modern-day culture. 
The reconstruction after the Great Seattle Fire brought about a renewed trade and transportation economy, and the Klondike Gold Rush brought thousands of gold-discovering hopefuls through the city's ports. The boom in the agricultural industry established Pike Place Market as a place for immigrant farmers to connect directly with their customers, and today it's one of the oldest operating farmers markets in the country! 
Building the Lake Washington Ship Canal in 1917 allowed for boats to travel between Lake Washington and the Puget Sound, opening the market for private wooden boats and pleasure craft. This whole area is actually pretty widely known around the world for its maritime history, thanks to Seattle's history of wooden boats!
Of course, there's also some niche history here buried in the city's local legends. Like, for example, the spooky stories of Seattle's most haunted hotel and pub — Kells Irish Pub and the Hotel Sorrento! In fact, these are regarded as some of the most haunted places in the nation, so be sure to stop by for a peek to see if they are as mysterious as they are believed to be!
Great food
What's a city without its fair share of food? Seattle has its own culinary claim to fame thanks to Washington State's abundance of fresh produce and seafood, so finding some top tier food is as easy as pointing randomly on a map or simply following all the delicious smells along the piers downtown. 
For sweet treats, be sure to check out the many doughnut shops in Seattle that cater to all styles of dessert. For international food, there's nowhere better to go than across the pond to Bellevue, where the Indian & Thai food is quite literally mouth-wateringly delicious. And, for a more sustainably minded approach to food, check out the Beacon Food Forest just south of Seattle.
Seattle also has its own style of hot dog! Though not nearly as famous as its Chicago counterpart, our Seattle-style hot dog is just as unique and, dare we say, maybe more delicious. It started with two Pioneer Square entrepreneurs who decided that the 1980s was the decade for a hot dog revolution in the city. Back then, bagels with cream cheese were popular post-game treats at the food stands around the Kingdome, as were hot dogs. The only logical step forward was to create a hot dog made with bagel dough and a generous spread of cream cheese. The rest, as they say, is history.
It's a fun city to live in
Whether you're here for work, for school, for leisure or fore life, Seattle has just so much to offer its residents.
Urban neighborhoods flourish with Seattle's flowering shrubs and trees each spring, bringing bright pops of life and color to the concrete jungle. Sweetly singing suburban birds make their homes here in Seattle, too, though their rent is arguably much cheaper than their human counterparts'.
Visitors can spend a day or a week here in Seattle and be fully entertained by its museums, restaurants, parks and scenic points. There's no shortage of cool photography spots in Seattle, either, not with all the local stores, bakeries, art museums and historic buildings! And, even though it rains quite a bit in Seattle, the drizzle makes for a perfect trip to a local coffee shop or bookstore to cozy up with a good book or a chat with friends. 
All in all
Whatever your reasons for living in Seattle, we sure are glad you're here with us and that you get to enjoy this wonderful city as much as we already have. We hope you are able to find more reasons to love living here each year!
Pin it!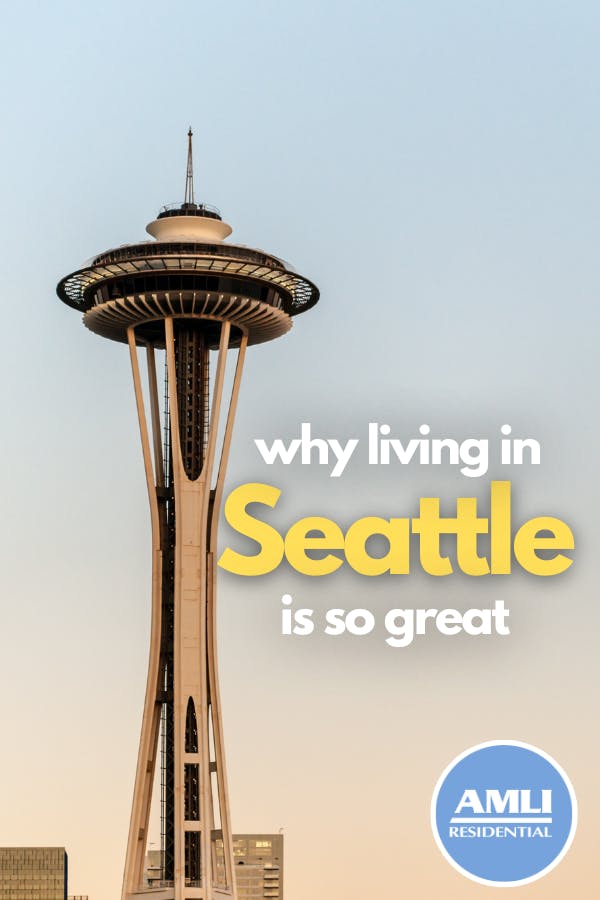 Featured photo courtesy Unsplash/Stephen Plopper